Freeport-McMoRan Crews Scramble to Clear Mud from Flood-ravaged Arizona Town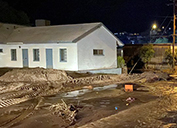 August 25, 2021 - A "desperate plea for help" from a 75-year-old cancer patient sent work crews from Freeport-McMoRan's Miami operation scrambling to dig out her home earlier this month after severe flooding blanketed much of the town with a thick layer of mud and debris.
The immediate response from the company was a "lifesaver," said Julia Angelica, whose home in Miami was one of about 50 that Freeport workers cleared as part of a monthlong effort to scrape away the slippery goo that had blocked roads and engulfed houses since floodwaters ravaged the Arizona community in late July.
"It was a lifesaver," said Angelica, a retired instructor at Arizona State University whose yard and home were buried in several inches of mud during the flood. "They got on it right away. They just bailed me out of a nightmare situation."
The Miami Town Council recognized the assistance rendered by Freeport and its workers Monday when it presented the town's Servant Leader Award to Kurtis Knauss, Superintendent-Technical Training in Miami, who coordinated the company's response to the flooding.
Miami was inundated with flood waters during a heavy rainstorm that washed through the town July 29, carrying mud and debris from the surrounding desert that was left barren when the Telegraph Fire burned through in June. When the rains came, there was no vegetation to hold the soil in place, so the runoff created a wall of mud that swept through the town. The main highway was shut down. Streets were blocked. Yards were buried. Sheets of the quicksand-like mud poured into the homes of area residents.
Soon after the rains began, Knauss sent company workers to help the community. Knauss then drove into town to assess the damage and found "a huge mess." One of the main streets in town was buried in 3 or 4 feet of mud for nearly 200 yards. Roads, sidewalks, driveways and yards were full of mud.
Knauss contacted town officials and offered Freeport's help, which was quickly accepted, and Joseph DeLara, Smelter Operator II, started clearing the road using a heavy front loader. That was the immediate priority because with the mud covering the streets and yards, any new floodwaters would be channeled directly into houses, Knauss said.
Freeport crews continued helping where they could by scraping up the mud and hauling it away. Cleanup crews were pieced together from regular shifts at the smelter. Employees who were volunteering in the efforts on their own time were put on the clock so they would be paid by the company.
"It's really about a sense of community because any one of us could be in this kind of place," Knauss said of why he and other company workers were so quick to help. "The thing that I saw the first couple of days is the emotional devastation of these people. A lot of these folks are low income, they're close to retirement or they are retired, and they lost everything. Jeremy Villa, Team Leader-Security, surveys the damage caused by flooding in Miami. "
Buried in mud
Angelica was virtually stranded in her home for two weeks. Several inches of mud covered her floors. It was so thick in her yard that she was unable to pile sandbags to prevent more water from washing in should the rains begin again.
She tried to dig out as much as she could, but the mud was too thick to get much done by hand, especially for an elderly woman coping with cancer. Some volunteers in the community helped her as much as they could, but they too were overwhelmed.
A neighbor had seen Freeport crews working in the area and suggested Angelica contact the company directly, which she did in an email sent with the subject line "Desperate plea for help from a flooded out senior in Miami, Arizona."
The response was almost immediate and soon Knauss was standing in her doorway assessing what needed to be done. Within hours, Freeport workers and heavy equipment were clearing the mud out of Angelica's house and yard. They spent most of the day Saturday, August 14, working on her house, and when they were done, they had "restored a semblance of normality and quality to my life," she said.
Angelica likened the Freeport crews to the firefighters who saved the town from the Telegraph Fire.
"Unless you've been in this situation, it's really hard to understand," Angelica said. "I don't think mere words can really explain it. I felt as grateful to them as I did to the firefighters who saved our houses. Because in terms of my quality of life and getting back to normalcy, it was equivalent."
Everyone came through
Angelica was one of several Miami residents whose homes were cleaned by company crews that day, Knauss said. When he got word of her plight, he immediately began juggling schedules to free up workers and equipment to continue the digging. There was no shortage of people willing to pitch in. Knauss, five company employees and volunteers from the community spent the day clearing away mud from three homes, using Freeport-supplied heavy equipment including front loaders and a vacuum truck.
"Everyone came through for me," he said. "All these guys got in there and got dirty."
As bad as Angelica's yard was, it wasn't the worst. One home had about 2 feet of mud that had to be scraped away.
Beyond making properties safe and accessible, the priority was to clear enough mud from yards that water from any more rainstorms would drain from the sites rather than flood into the houses, Knauss said.
Knauss and his crews continued helping area residents clear their homes throughout last week after heavy rains brought new flooding to the nearby Claypool area. Hardest hit was the Little Acres Mobile Home Park, where about 20 homes were flooded. Freeport crews cleared roads and removed mud and debris from the properties, several of which are the homes of current and retired company employees. The company also provided food, water and portable toilets to residents as the area remained without water service as of Monday.
Since the initial flooding in late July, Freeport crews and equipment have been used to clean mud from about 50 homes in the Miami area, in addition to clearing roads and providing other emergency assistance.
The aid rendered by Freeport and its employees "has been a complete godsend," said Miami Town Manager Micah Gaudet. The tiny community does not have the heavy equipment or other resources needed for such a massive cleanup.
"To know that we have organizations like Freeport right here in our backyard that are willing to step up and willing to help residents out, that's a huge relief in the midst of a very chaotic and unfortunate circumstance," Gaudet said. "I don't think there are words to describe all that means for the town of Miami and local residents. It's been a huge help."
During the town council presentation Monday, Mayor Sammy Gonzales said he witnessed the quick action of Knauss and his Freeport crews to help people deal with the flooding and its aftermath.
"The day that the flooding occurred there was a lot of chaos going on," Gonzales said. "Mr. Knauss was there with his crew. He had a dozer out there clearing the road for our residents, and he was on top of it. This to me is kind of personal because I saw what he put in."
Ready to help again
Employees from Miami operations continue to help residents of the town clean up when they can be freed from their regular duties. Knauss said he keeps watch on the weather, hoping the work that already has been done is enough to prevent more damage from future rainstorms.
When asked what Freeport would do if another disaster strikes the town, Knauss said, "I guess we'd go back and do the same thing.
"People have to live somewhere. They have homes they need to go home to. We live in these communities. We're related to these people. We're friends with these people. We work with these people. This is our community."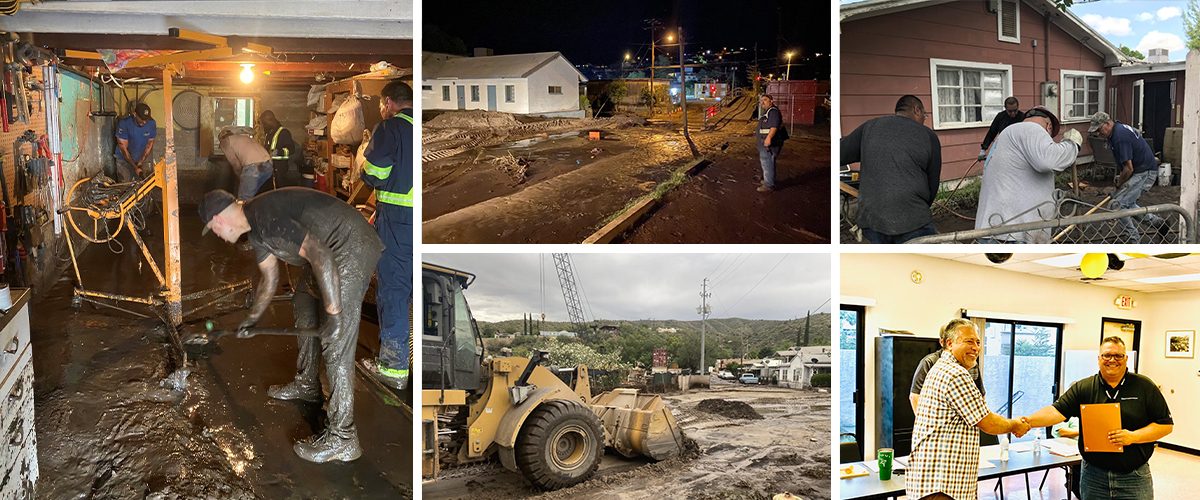 Photos (clockwise from far left): Robert Lopez, Supervisor-Smelter Operations, shovels mud during a recent cleanup of homes in Miami that were damaged by flooding. Jeremy Villa, Team Leader-Security, surveys the damage caused by flooding in Miami. Freeport-McMoRan employees from the Miami operation use hand tools and a vacuum truck to clear mud from the yard of Julia Angelica after hearing her "desperate plea for help" in the wake of recent floods. Miami Mayor Sammy Gonzales (left) presents the Servant Leader Award to Kurtis Knauss, Superintendent-Technical Training in Miami. Joseph DeLara, Smelter Operator II, uses heavy equipment to clear roads in Miami shortly after heavy flooding left much of the town covered in mud.