Papuan Highlands Bridges Connect Villagers to Critical Services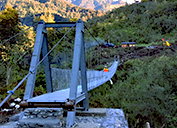 August 31, 2021 - While the idea of building a couple of bridges may sound humdrum from a Lowlanders' perspective, the two suspension bridges PTFI recently finished in the Papuan Highlands are nothing less than life-changing for native villagers who now have safe passage over two of the area's more treacherous river crossings.
That's especially important considering the area is home to the "Wettest Place on Earth" at Mile Post 50 where 480 inches of rain a year drop into topography that descends 16,000-foot peaks to sea level over a span of just 55 miles.
Thanks to the two 550-foot suspension bridges in the Hoea Valley, visitors from dozens of Highlands hamlets now have safe access to their fields and coffee plantations and connections to get to medical clinics, schools and other services, not to mention reuniting with family members.
"The company has made significant improvement to the quality of life, replacing makeshift bridges made of rattan strands and wood that subjected villagers to dangerous crossings or day-long detours," said Nathan Kum, PTFI's Vice President-Community Development. "PTFI will continue to contribute to the embodiment of sustainable community and regional development, while respecting the local culture and values."
As a community situated near the company's Indonesian operations in the Highlands, Hoea Valley lies within the scope of PTFI Community Relations and the Amungme and Kamoro Community Empowerment Foundation community development programs. One bridge connects the villages of Dalmaogom and Mamontoga, while the other connects hamlets such as Tsinga, Jila, Bela and Alama and also provides better access to the only school building in Kulamaogom village.
"We appreciate the company's assistance in providing critical infrastructure for this district in better uniting the villages," said Karel Kum, Chief of the Hoea District. "We will ensure that the community and local government are working together, so we can maintain these important facilities for the good of all."
Construction of rural infrastructure like these bridges in remote areas of the Mimika Regency shows that development programs are not only focused on big cities and towns, said Robert Mayaut, Head of the Mimika Public Works and Housings Office.
"We are proud to partner with PTFI in building good infrastructure in Mimika to promote development and betterment for the community," Mayaut said.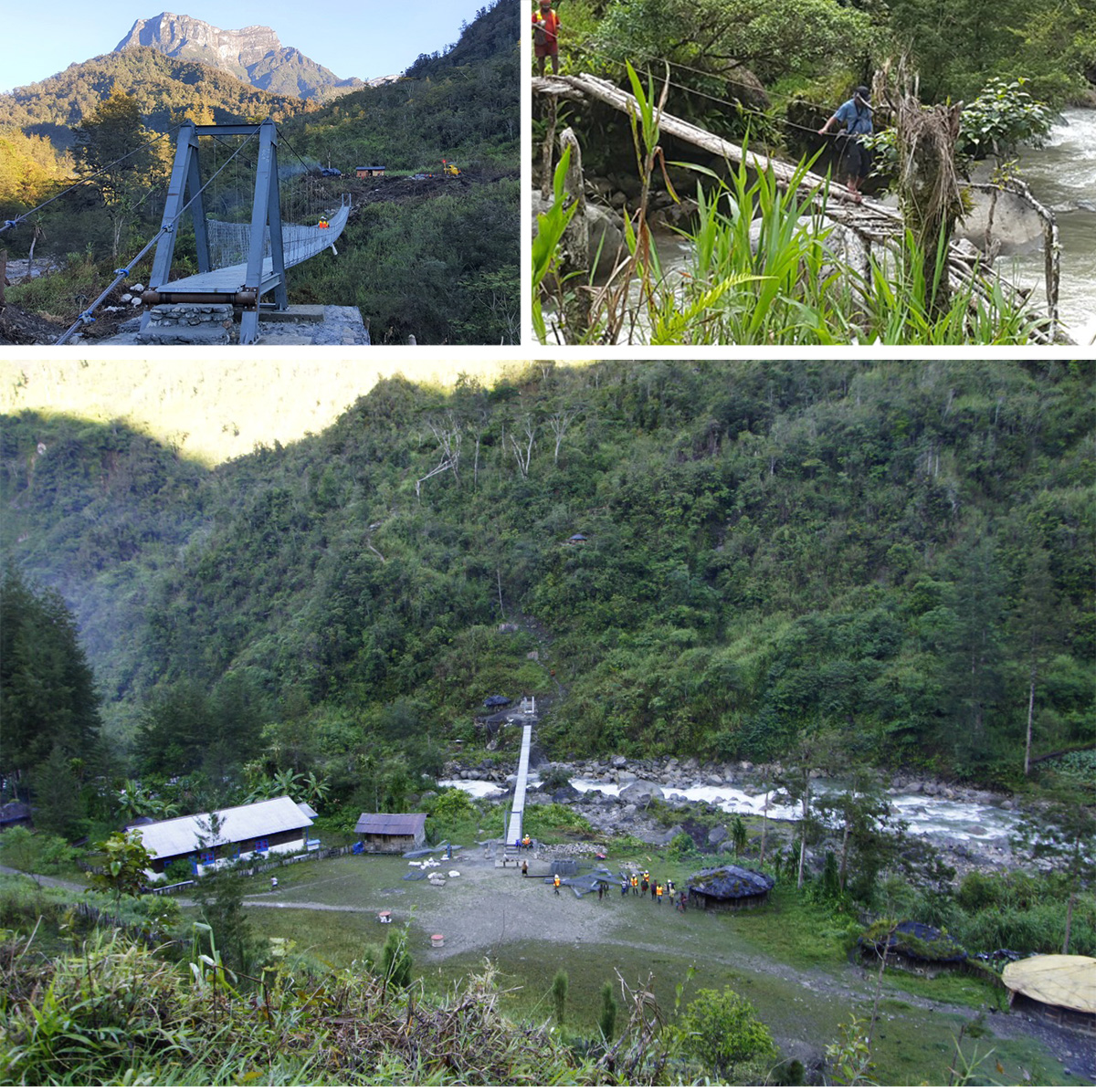 Photos (clockwise): Two new suspension bridges, such as this one, make river crossings in the Hoea Valley safer. This makeshift bridge was replaced with one of the new suspension bridges. The Hoea Valley is now home to two new suspension bridges.