PTFI Honored for Campaign to Reduce Plastic Waste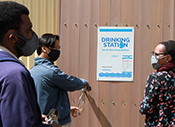 September 3, 2020 - PT Freeport Indonesia's employee awareness campaign has won a prestigious international award from the Public Relations & Communications Association Southeast Asia for its success in helping reduce the use of plastic at Jobsite.
The campaign, known as #SaPuAir which means "My Water," was conceived and launched by PTFI's Corporate Communications team to educate the PTFI community about the quality of its own pristine water and the need to eliminate plastic water bottle use.  
#SaPuAir featured a series of informational print stories, posters, videos and television programs. The team conducted taste tests, held video competitions and other contests, and posted lab results at water refilling stations throughout Jobsite.
As a result, plastic water bottle use went to zero from almost 5 million bottles a year.
"Communications and collaboration were the keys to the success in reducing the use of plastic bottles," said Riza Pratama, PTFI's Vice President-Corporate Communications. "The PTFI family has shown its commitment to preserving its surrounding environment."
Award Delayed But Not Tarnished
PTFI's award for In-House Employee Engagement was announced at the PRCA Southeast Asia 2020 virtual ceremony held in August, a ceremony originally scheduled for February in Singapore but canceled due to the pandemic. Watching the company win the award in the virtual ceremony was no less exciting for PTFI's team, said Stefanus Branco, General Superintendent-Site Coordination and Communications.
"This campaign was a great example of how employee communications and engagement can play significant roles to connect the dots, whether the campaign is about safety and production goals or environmental calls to action," Branco said.
Top Down Buy-In
Previously, PTFI would bring in almost 5 million plastic bottles of water annually to Jobsite.
The topper for Mark Johnson, PTFI's Director, Executive Vice President and Chief Operating Officer, was that all those bottles were being purchased in a part of the world blessed with natural water from plentiful rainfall and natural springs that is every bit as pristine as other high-end bottled water.
"Shipping bottled water here was like bringing sand to the beach," Johnson said. "We needed to educate our employees and the community on how good our natural water was right from the tap, what it was costing to bring that unnecessary water in and the volume of waste it produced."
While Corporate Communications was developing the public awareness campaign, PTFI began installing water tanks, dispensing stations and even stations for employees to wash the reusable bottles they were issued. Potable water systems were installed in the underground work areas where water hadn't been piped.
It's Good, Really
What made the #SaPuAir campaign so important was the hurdle of changing the mindset of Indonesians, who have long had reservations about drinking tap water. Those reservations are justifiable, as much of the municipal water in this nation comprised of more than 17,000 islands is unsafe to drink.
"There are relatively few places in Indonesia, even high-end hotels, where the local water can be trusted, so that was a huge thing for our people to overcome," Johnson said. "Our water here always has been excellent. The idea was to ensure people knew it was not only as good but better than the water in those plastic bottles."
The blind taste tests that the site's Communications team conducted among employees and community members and then ran as segments on PTFI's closed-circuit television network helped change minds, Branco said.
"We knew how good our water was, but we didn't know what to expect when we started the tests," Branco said. "What we found was that nearly every person we surveyed either preferred our natural water or could not distinguish it from the bottled water."
While bottled water is still available for purchase at stores, nobody really wants to be seen with one, and the company neither purchases nor transports them to Jobsite, Branco said.
PTFI has since also banned the use of plastic shopping bags and even is planning to eliminate the use of plastic wrap on produce. It's been a rewarding process for Johnson, one that he and more than a few employees have taken to heart off the job as well.
"You will not find a bottle of water at my home at PTFI or in the U.S.," Johnson said. "I've had guests ask me where I keep the bottled water, and I tell them it comes out of the faucet."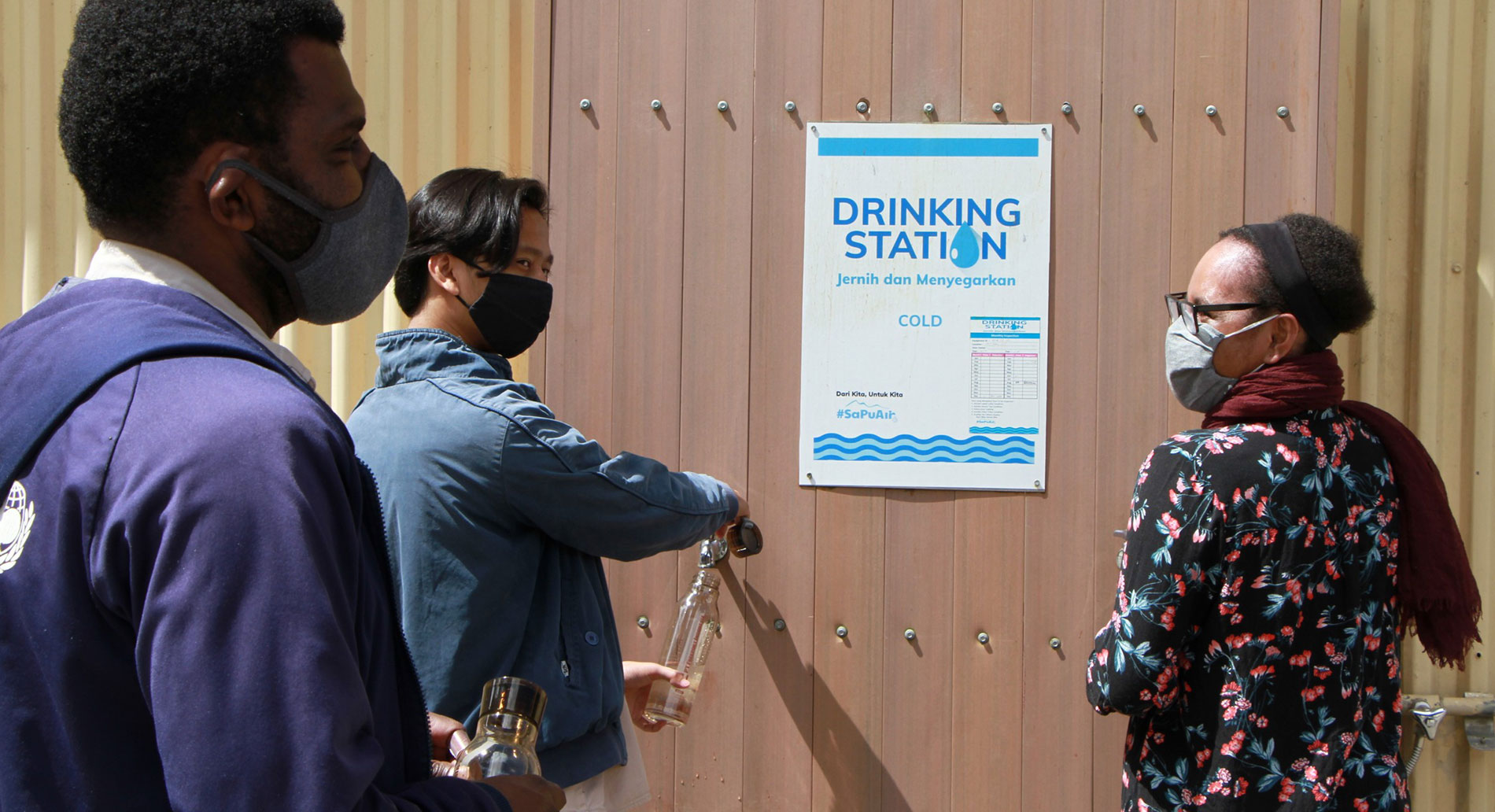 Photo: PT Freeport Indonesia employees fill up their reusable water bottles at one of the many drinking stations on site.