Cerro Verde, a Freeport-McMoRan Company, Donates Oxygen Generating Plant to Arequipa Hospital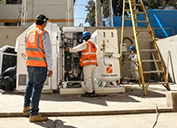 September 3, 2020 - After a surge in coronavirus cases left Peruvian hospitals struggling to keep pace with increased demand for medical-grade oxygen amid a supply shortage, Cerro Verde donated an oxygen generating plant to Honorio Delgado Regional Hospital in Arequipa, Peru at the end of July.
The new plant is able to generate 720 cubic meters of medical-grade oxygen each day, or enough for the hospital to expand care to an additional 50 COVID-19 patients – nearly double its previous capacity. This is critical, as Peru currently has the second highest number of cases in Latin America, with a spike in the region of Arequipa where the company operates.
The plant complies with international standards. It also is certified by the Directorate General of Medicines, Supplies and Drug, which functions under the Peruvian Ministry of Health as the national authority for ensuring the effectiveness, safety and quality of pharmaceuticals, medical devices and health products.
In addition, Cerro Verde has donated 120 oxygen cylinders for use in transporting oxygen to patients in and around Arequipa.
Since the start of the outbreak, Cerro Verde has donated funds to purchase 10 invasive CPAP ventilators, helped acquire more than half a million test kits for the government and contributed tens of thousands of personal protective equipment items to regional health centers. Cerro Verde has also provided bus transportation for health-care workers and donated food baskets to families impacted by COVID-19.
To learn more about how Freeport-McMoRan supports communities in which it operates, please visit fcx.com/sustainability and freeportinmycommunity.com.

Photos: The oxygen generating plant donated by Cerro Verde was installed in late July at a local Arequipa hospital.