Company Program Helps Student's Dreams Come True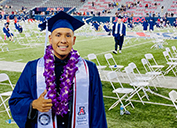 September 9, 2021 - Tohono O'odham Nation tribal member Aiden Joaquin made personal history after becoming the first in his family with a university degree, thanks in part to financial support from the company's Native American Scholarship program.
Joaquin earned his Bachelor of Science in Criminal Justice from the University of Arizona in three years while working and completing a senior-year internship. He credits his achievement to the work ethic he learned from his parents and the support of the company's scholarship to attend the University of Arizona in Tucson, calling his graduation "a big accomplishment for us all."
"The scholarship made a huge difference. I always thought if I was going to go to college, I did not want to put a financial burden on my parents," he said. "The scholarship gave me the opportunity to be in college, and it pushed me to get good grades, knowing that people were supporting me, and I wasn't there to party."
The company's Native American Scholarship Program provides various educational opportunities for tribal neighbors near its operations.
Joaquin is from the Santa Rosa Community in the Gu Achi District of the Tohono O'odham Nation, which is located about 30 miles south of the Cyprus Tohono operations, a company site under care and maintenance in Arizona.
Two, four-year scholarships for enrolled members of the Tohono O'odham Nation and funded by Cyprus Tohono operations cover tuition, fees, books, and room and board at the Arizona resident rate.
"I am proud and grateful to see one of our scholarship recipients graduate from a university and pray for continued blessings as Aiden embarks on the next stage in his life," said Ondrea Barber, Lead Native American Affairs Specialist. "We hope that the scholarship programs we offer help to support the next generation of leaders in our respective and neighboring communities."
After spending the summer working on a family ranch, Joaquin will join the Marines in September. While he could enter military service as an officer, he prefers the experience he will receive taking the enlisted route, he said.
Through the scholarship program he was able to earn his degree first rather than join the military out of high school. His goal is to return to his community as a police officer and leader, he said, and he wants to encourage other students in his community to seek out opportunities for college.
"My parents are very proud, and they are two of my biggest supporters educationally. Although they would always spotlight my academic successes, I knew that putting in hard work was going to be the defining factor," Joaquin said. "I always dreamed of graduating as a Wildcat in my hometown."
Learn more about the company's Native American community and social investments, including other scholarship programs.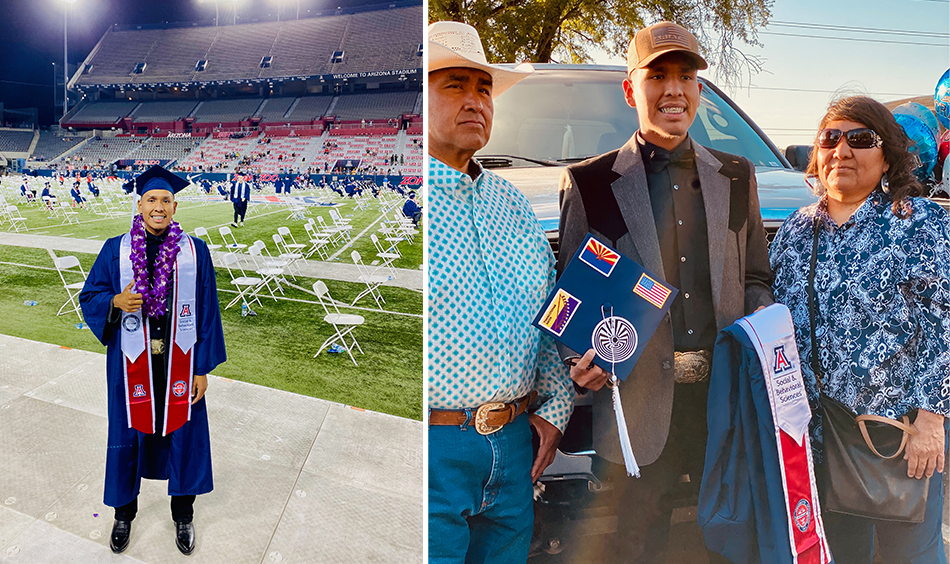 Photos (from left to right): Aiden Joaquin, a Tohono O'odham Nation tribal member, graduated with the help of financial support from the company's Native American Scholarship program. Aiden Joaquin, center, poses with his parents, Blaine Joaquin (Santa Rosa Community) and Lorine Miguel (Anegam Community) before graduation.