'Draft Picks' Help Keep Tech Center on Winning Path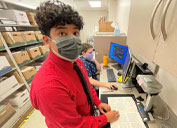 September 13, 2022 - Oscar Baca recently welcomed two "draft picks" otherwise known as interns into the Technology Center Tucson fold on the stage of a high school auditorium.
The annual event at San Miguel High School drew a nearly packed crowd, as student internships were announced in a sports-style "Draft Night" event for the 2022-2023 school year.
Through its corporate work study program, San Miguel's 300 or so students are deployed in-person at more than 80 workplaces across Tucson, Ariz. The Tech Center has been a corporate partner since 2013.
"It's been a nice partnership for us. They send us some very capable interns," said Baca, Principal Chemist-Tucson.
San Miguel opened in 2004 as a Lasallian Catholic college preparatory school that serves students from underserved communities. Students work in job-sharing teams to fill full-time entry level positions with more than 40 organizations throughout the greater Tucson area.
The school offers corporate partners a reliable, high-performing student workforce, while students gain valuable work experience and the opportunity to learn professional career skills in addition to earning money to support the cost of college preparatory education.
Having Freeport-McMoRan as a longtime corporate partner is a selling point for potential corporate partners as well as the local mining industry, said Dave Mason, President and CEO, San Miguel.
"When we can say we have students working over in the Tech Center with Freeport-McMoRan, it gives tremendous credibility to what we're doing," Mason said. "And it also opens our students' eyes to the great opportunities in mining, and they see that they don't have to go anywhere, that these opportunities are right here for them with companies like Freeport."
Tech-savvy interns hit the ground running
The interns work throughout the week and are shuttled to and from the Tech Center for eight-hour shifts on Fridays during the school year. Many of them perform data entry for several departments, while others work in the Tech Center's Laboratory weighing samples and performing other tasks.
"There is a ton of stuff to digitize and data-entry work here at the Tech Center, and these students are so experienced with Excel and other spread sheets. It's a breeze for them," said Joanna Robertson, Director-Metal Recovery "They're much better at it than I am. We get tremendous value from the work they do."
Robertson was so impressed by the students and the school, she got involved with San Miguel several years ago, and she now sits on its board of directors.
Jezrael Mendoza-Barajas proved true to San Miguel form with the quality of his work in the Tech Center Library under Hannah Langenfeld, Research Librarian, Communications-Tucson.
"I began supervising Jezrael about halfway through his assignment with the Exploration Library and was immediately impressed with his technical skills and professionalism," Langenfeld said.
Jezrael likewise was impressed by the stable, professional work environment at the Tech Center.
"It's normal, and I mean that in a good way, because it has always felt safe and professional, and all the people are polite," he said.
Intern competence and professionalism highly valued
Other than not handling some potentially hazardous chemicals in the lab due to liability and exposure, the San Miguel interns essentially perform the tasks of their full-time counterparts, and they do it well, said Jeffrey Thompsen, Chief Chemist-Tucson.
"The caliber of students we get from San Miguel is just excellent," Thompsen said. "They're always mature and professional, and we greatly benefit from the work they do for us."
Among the batch of interns from the last school year, Abram Rivera caught on so quickly and proved a great fit at the lab, he was offered and accepted a full-time summer job there, Thompsen noted.
"Abram has shown great aptitude in the lab for picking up what we do, and he works very well with the staff," Thompsen said. "It's the first time we've offered an intern a full-time summer job, but it's something I could see happening again."
Abram said the team of employees at the lab made him feel comfortable the first day of his internship.
"I love it. The people are so friendly, and I like weighing samples, because once you get the hang of it, you get better and faster at it," said Abram, a graduating senior and now a freshman at the University of Arizona. "Once you get the competence, the people here trust you and really treat you like one of the family."
Speaking of family, Mom and Dad were proud parents this summer, Abram said.
"They were excited because this is my first time working as a full-time employee, getting a paycheck, so they were happy that my first job was working for a good company," he said.
Photos (clockwise): Jezrael Mendoza-Barajas was one of eight San Miguel students who interned at the Technology Center Tucson during the 2021-2022 school year; Oscar Baca, Principal Chemist, Tucson, welcomes San Miguel High School intern Isaiah Quevedo at the school's "Draft Night" event in July; Abram Rivera's internship at the Technology Center Tucson went so well it turned into a full-time summer job for him.