New Mexico Employees Step Up to Help Neighbor in Need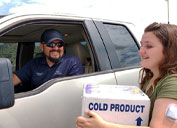 September 23, 2022 - A bridge closed because of recent floods was no match for resourceful New Mexico employees who answered the call to help ensure an area youth received her insulin.
The washed-out bridge made the stretch of New Mexican highway look like a computer-generated catastrophe for a disaster movie, but it was in fact very real, as were the swift heroics from Freeport-McMoRan's New Mexico operations.
When a late-August flood took out the Greenwood Creek Bridge on State Highway 180 not far from Tyrone Operations, it isolated the communities of Cliff and Gila. Employees from New Mexico operations quickly worked with the New Mexico Department of Transportation and Emergency Services to provide access through dirt roads on company property near Bill Evans Lake.
The company also ferried supplies from Silver City through the access route to the other side of the washed-out bridge as residents couldn't make the drive themselves. That's how Ray Gutierrez, Superintendent Maintenance-Shared Services, got insulin to 12-year-old Dusty Waters, whose mother, had posted a plea on Facebook for help after finding out the FedEx driver couldn't get the insulin to her from Silver City.
"Ray got back to me, and he and the company worked something out with the FedEx driver," said Dusty's mother, DeVonna Waters. "Dusty had less than 48 hours of insulin when I posted that night, and Ray got us that delivery the next afternoon."
The timely efforts of Gutierrez, his fellow employees, state officials and FedEx were nothing less than heroic for Waters.
"I've known Ray all my life. He's always there to help you when you need it," Waters said.
"I came across something on social media about Dusty's insulin running extremely low, and that she couldn't get the supply she was supposed to have received," Gutierrez said, "My own daughter has Type I diabetes, so I knew how important it was to get the package to her."
At that point, the access that Freeport would provide around the damaged portion of Highway 180 had yet to be made public, but Gutierrez knew there was no time to wait.
"I called DeVonna and said, 'I have a way we can get it to you," he said.
Gutierrez, who was working in Chino, drove through the company access road into Silver City to the home of the FedEx worker who had the medication.
"She (FedEx driver) had taken good care of the package. She had put it in her refrigerator to ensure that it wouldn't get too hot, which was the right thing to do," Gutierrez said. "It only took about 30 minutes to get to the lake utilizing the dirt road that bypassed the bridge that was out. When I drove up her, DeVonna's daughter was there with a huge smile on her face."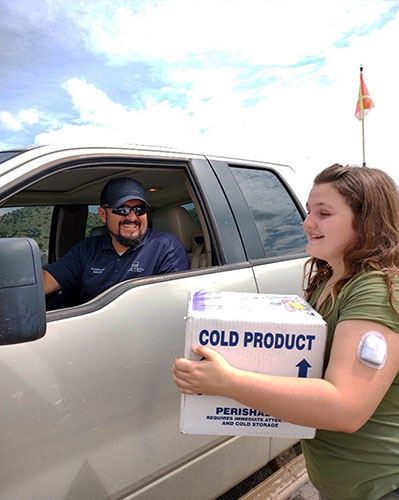 The Gila and Cliff area was isolated after flash flooding damaged the bridge.
Working with the New Mexico Department of Transportation, New Mexico operations helped set up the "F-M-I Emergency Access Point," to allow friends and family of Cliff and Gila residents to shop for them and deliver the supplies to a drop-off point on Highway 180. Freeport employees shuttled the supplies across the company's private access road to a pick-up location near the entrance to Bill Evans Lake.
Erich Bower, General Manager-Tyrone, acknowledged other members of the team for their support of this effort. Ty Bays, Senior Land and Water Analyst-New Mexico operations originated the idea for the path through the site and oversaw construction. Meanwhile, Sharon Offutt, Community Development Specialist, managed coordination with local leaders and emergency responders, and led site communication efforts.
Photo: DeVonna Waters took this photo of Ray Gutierrez, Superintendent Maintenance-Shared Services, hand delivering a package of insulin to Dusty Waters after using the access route set up by New Mexico operations during a three-day highway closure.