Freeport-McMoRan Reduced GHG Emissions by More Than 17% in 5 Years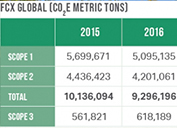 September 24, 2020 - Copper plays an essential role in the technologies needed to develop and enable the energy transition. As one of the world's largest copper producers, Freeport-McMoRan is uniquely positioned to meet stakeholder expectations for both their contribution to, and their alignment with, a 2-degree Celsius climate scenario. This is because emissions related to converting copper cathode that is produced into usable products like wire are minimal, and copper plays a significant role in electrification, renewables and energy efficient technologies.
Freeport-McMoRan is dedicated to supplying the world with responsibly produced copper, which includes operating in a way that manages and mitigates their greenhouse gas (GHG) emissions and other climate-related risks. The company has successfully implemented innovations in mining and processing that have resulted in an overall significant reduction in greenhouse gas emissions.
Freeport-McMoRan's work to identify and address climate-related risks and opportunities across their business has been underway for many years. In 2019, their management team undertook an extensive analysis of their climate performance, establishing the following strategy, based on three pillars:
1. Reduction: They strive to reduce GHG emissions by 15% per ton of copper cathode in the Americas by 2030.
2. Resilience: Freeport-McMoRan strives to enhance their resilience to the risks associated with climate change for their operations, their surrounding communities and their stakeholders.
3. Contribution: They strive to contribute positively beyond their operational boundaries by responsibly producing copper and molybdenum for the energy transition and collaborating with partners in their value chain.
As shown in the chart, Freeport-McMoRan's 2019 absolute GHG emissions were 8,012,451 metric tons, which is 21% lower than 2015. This 21% is comprised of two parts: (1) a 17% reduction in emissions and (2) a 4% decrease due to improvements in how they calculate emissions factors. Approximately 70% of their total emissions are generated by the Freeport-McMoRan Americas operations and 30% at their operations in Indonesia.
Learn more by reading Freeport-McMoRan's 2019 Climate Report. Please see the 2019 Sustainability Report for more information on the company's social, economic and environmental efforts.