National Indonesian Games Showcase PTFI-financed Sports Complex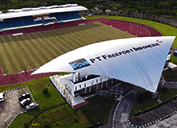 October 4, 2021 - Though they were delayed and very nearly canceled, the 20th Indonesian National Games are very much on in the house that Freeport built.
The Mimika Sports Complex, a glittering $33 million event venue and training facility funded by PT Freeport Indonesia, is one of four showcases for the Papua National Sports Week (PON) which is being held for the first time in the province of Papua. Check out this video of the MSC.
More than 6,400 athletes and officials from 34 provinces across Indonesia are competing in 37 events being held in Jayapura City, the provincial capital, and the regencies of Jayapura, Mimika and Merauke. The games began on Saturday and will conclude October 15. In addition, Kuala Kencana, a PT Freeport Indonesia mining town in the Lowlands, was chosen as the official starting location of the torch relay ceremony for the games and as the starting point for the marathon and speed walking events.
More than just a week of the nation's best athletes squaring off, PON is a campaign of events and activities designed to encourage and promote the value of physical exercise to Indonesia's population of more than 270 million people.
The fact the games are even being held is a testament to the commitment and persistence of company and local health officials to promote social distancing, good hygiene and mask-wearing and to advocate and provide COVID-19 vaccines. Within just two months of receiving COVID-19 vaccines, PTFI had increased the vaccination rate of its workforce to 86.4 percent with at least a single shot and 80.2 percent of employees fully vaccinated as of September 28. Both rates are expected to continue to increase. The Mimika Regency reports that its overall vaccination rate has climbed to greater than 60 percent.
"We at PTFI are very proud as a company to have led the effort to fight the pandemic and to have provided resources and equipment for community public health efforts on behalf of our employees and also the larger community," said Jonny Lingga, Vice President-Government Relations Jobsite. "It is because of the way our employees and the community have responded as good and responsible citizens that we have been able to show so much success with our vaccination rates and to lower the number of new cases. That it is why the games have been able to be hosted here."
Lingga and many others with PTFI have been eagerly anticipating a vision they have had since the company began planning the Mimika Sports Center more than decade ago: a stadium filled with fans from across Indonesia's more than 17,000 islands watching thousands of athletes compete in the first national games ever held in Papua. Though the overall vision soon will be realized, the number of spectators will be pared down to 25 percent to observe social distancing protocols.
"We built this stadium and everything around it to be world class, something that Papuans can be proud of," Lingga said. "It not only gives Mimika a great resource for any number of events and training, but it also fits hand in hand with PON and the mission to promote a healthy, active way of life for our citizens."
PTFI financed construction of the sports complex in 2013 to foster world-class athletes in Papua. The venue is comprised of an indoor stadium, an open-air stadium, a dormitory for athletes and coaches, and other supporting facilities.
"On behalf of the PON central committee and the Papuan governor, I would like to convey my gratitude and appreciation for PT Freeport Indonesia's support of the construction of a state-of-the-art sports complex and financial aid for the games as a significant contributor to the success of this event," said Dr. Yunus Wonda, PON Regional Chairman, Mimika. "It's been an excellent partnership, and with its expertise and capabilities, PTFI is the right and best partner we could ever think of."
Freeport not only built the original sports complex but also funded its restoration for the games and has provided additional support and resources for event staffing and other expenses.

Photos (from left to right): In a practice session, a sprinter breaks out of the blocks at the Mimika Sports Complex, one of four Papuan sites to host the 37 events of the 20th Indonesian National Games. PTFI financed and built the Mimika Sports Complex, which includes an open-air stadium, indoor stadium, dormitory for athletes and coaches, and other supporting facilities.