Freeport's Francisco Costabal Honored for Career Contributions to Chilean Mining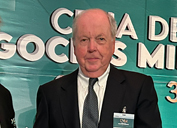 October 11, 2023 - Francisco Costabal, who recently retired as Freeport-McMoRan's Vice President of Business Development and Administration-South America, was honored for his more than 50 years in the mining business by three of the industry's leading organizations in Chile.
Costabal's contributions to the mining industry and its importance in the Chilean economy were recognized by the National Mining Society (SONAMI) at an August event attended by Chilean President Gabriel Boric. Other organizations honoring Costabal were the Mining Council and the Association of Industrialists of Antofagasta (AIA).
Costabal retired from Freeport earlier this year and currently serves as an external advisor. Costabal's background is in the business and accounting side of the mining industry. He joined Freeport in 2010 and throughout his career has been active in Chile's mining trade organizations, including the Mining Council and the National Mining Society.
"I am very happy to have dedicated my professional life to mining, to which Chile owes a great deal," Costabal said. "I am also happy to be in an industry that has much to give to our future in facing global warming. When you start working in mining and understanding it, one values so many great people that have left their mark, the standards for safety, respect for the environment, community engagement, new technologies, digitalization of operations and so many other features that will be the mining of the future."
During the SONAMI annual dinner, Jorge Riesco, the organization's president, said of Costabal: "We value not only his contributions in technical areas but his warmth as a human being and professionalism."
Joaquin Villarino, President of the Mining Council, praised Costabal for being a leader in modernizing the mining industry. "Francisco has been a privileged witness of a sector that has evolved not only in growth but also in standards and in the complexity of its challenges," he said. "Today´s mining is very different from what it was in the '70s, and without a doubt, much of this is thanks to his work."
Marko Razmilic Kútulas, AIA President, said Costabal's half-century of work in mining helped "build a modern mining industry, which reflects an outstanding commitment to the industry, to the region and to our country."
Photos (clockwise): Francisco Costabal (center holding award) celebrates his recognition by multiple industry organizations with Freeport workers in Santiago. Francisco Costabal (right) is honored for his half-century of work in the mining industry by the Association of Industrialists of Antofagasta and its president, Marko Razmilic.