Morenci Author Captures Life Inside the Mine Through Children's Book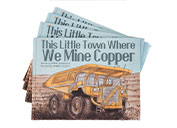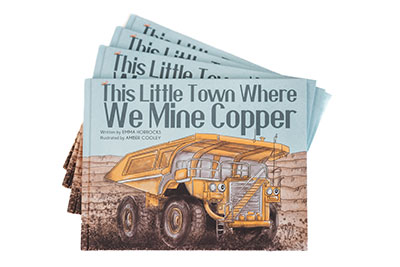 October 28, 2022 - Raising children in tight-knit mining communities owned by Freeport-McMoRan inspired a Morenci mom, the wife of a company engineer, to write a children's book about copper mining in a company town.
Emma Horrocks' book, "This Little Town Where We Mine Copper," was written in rhythmic prose that helps explain to children in mining towns what goes on inside the copper mines where most of their parents work. It is an homage to the people living there, said Emma Horrocks, who spent about six years living in Bagdad with her husband Grant before moving to Morenci.
"These small mining towns are different than anyplace else," Emma Horrocks said. "They are very special. They have a strong sense of community, and they create a family because you all must rely on each other. I felt like there was a story there, a story in what Freeport has created through these mining towns especially, but also generally in these small towns that have the mine where everyone works together, both in the mine and in the community."
The book was a true family effort. It was illustrated by Emma Horrocks' mother, Amber Cooley, who lives in Utah. Grant Horrocks, Senior Engineer-Morenci, acted as the technical advisor, doing research, explaining the various steps of producing copper and fact-checking the writing and illustrations to ensure accuracy.
Unlike many of the people in the communities Emma Horrocks wrote about, the Horrocks had no family history in mining. When Grant Horrocks was in college, he applied for engineering internships and got one at the Bagdad mine. He enjoyed the work and ended up getting hired permanently by the company. After six years in Bagdad, the family moved to Morenci about a year-and-a-half ago.
Family experience inspires author
The inspiration to write a book about mining came while the family still lived in Bagdad. Emma Horrocks, who has two children ages 6 and 4, volunteered at the library reading to preschoolers. Her mother, Cooley, already was fascinated by the concept of a company-owned town. While sitting in on the reading sessions, Cooley would flip through the children's books and realized there wasn't much for kids about copper mining even in a town that mines copper.
Emma Horrocks had been working on some different ideas for a children's book. With the new story line geared toward explaining what goes on in a copper mine, the mother-daughter pair started work on their first version, with Emma Horrocks writing the story and Cooley drawing the illustrations by hand.
They self-published an earlier paperback version of the book but were not happy with the production quality and decided to revise it. Emma Horrocks continued tweaking the prose while Cooley switched to a computer illustration program, which took a lot of learning and getting used to. Both continued relying on Grant Horrocks' expertise in getting the details right.
"I had to visually see the process, so I sat down with Grant, and I said, 'I need you to sketch out the process in stick figures, so I can visualize it,'" Cooley said. "Then, I did the research on the vehicles and the trucks and the equipment and all the different materials that they used. I'd never drawn trucks before. This was something new to me."
The result was published last summer. Like the first version, it is being self-published and is coming out as a hardcover, at least initially, Emma Horrocks said. The target audience is children from about 5 to 8 years old whose parents work in the mines.
"I wanted to write a story that explains the process of mining copper in a fun, rhythmic way that is able to teach children what is going on inside the mine and what their parents are doing," Emma Horrocks said. "I felt like that made it something special to the people in these towns because the workers who go into the mine are able to come home and share with their families and their children what they are doing and see that their job is so important."

Photos (top right; bottom left to right): Morenci author Emma Horrocks, wife of a company engineer, wrote a book about producing copper to help mine workers explain their jobs to their children; Grant Horrocks, Senior Engineer-Morenci, helped his wife Emma do the research for the children's book she authored; Amber Cooley used her artistic and computer skills to craft the illustrations for the children's book written by her daughter, Emma Horrocks.