El Abra Funds Projects to Protect the Cultural, Archaeological and Historical Heritage of the Province of El Loa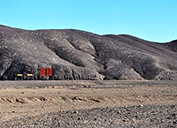 November 18, 2021 - Minera El Abra recently launched a second "Heritage Fund" to support a variety of initiatives that promote and preserve the culture and traditions of the Indigenous communities surrounding El Abra's operations.
The Fund will be administered by the Simón de Cirene Corporation, a local community organization and seeks to provide support to academic institutions, indigenous organizations and non-profit foundations. Funds will be given for activities such as research, documentation, preservation and dissemination of information and other resources related to the cultural heritage of the communities of Calama, including the indigenous communities of Alto El Loa, Maria Elena and Tocopilla.
The first Fund was launched in 2017 and funded projects such as:
The preservation of the ancient geoglyphs of Chug-Chug in the Atacama Desert in northern Chile.
An award-winning animated series for children called "Dog Story" that shared the myths and legends of the Antofagasta Region.
An audiovisual documentary made by the Ollagüe Cultural Foundation and professionals from the University of Antofagasta, called "El Tren de Azufre y sus Estaciones", an initiative that tells the story, memories and ways of life that make up Ollagüe's historical heritage.
To learn more about how Freeport-McMoRan works in partnership with local stakeholders to support social development, please visit fcx.com/sustainability and read our 2020 Annual Report on Sustainability.

Photo: Panorama Geoglyphs of Chug-Chug, Chile – photo by Woreczko Jan - Own work, CC BY-SA 4.0