Morenci Kicks off Biodiversity Week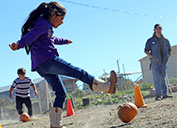 November 18, 2022 - Multiple sightings of schoolchildren engaged in all manner of aberrant behaviors throughout southeastern Arizona's Greenlee County have been summarily tied to Freeport-McMoRan and its longstanding, unabashed support of biodiversity.
During the last week of October, numerous reports included kids tearing up the ground to plant milkweed and agave; concocting mud balls out of dirt, seeds and steer manure; spying on birds along the Duncan bird trail; and even kicking around poor, defenseless pumpkins at a patch in Duncan.
In addition, the children took in a plethora of live animal presentations and virtual classroom activities on bee pollination, bat conservation, monarch butterfly migration and animal adaptions.
Financially supported by Freeport and staffed by volunteers from the company's Morenci operations, what began years ago as "Bat Week" to educate students on the importance of bats as pivotal pollinators and pest-control heroes has evolved into an umbrella of activities and lessons encompassing the wealth of biodiversity in the area.
"Biodiversity Week is a week filled with fun, educational activities related to the distinct plants, animal, and insects that reside in our Greenlee County home," said Rachelle Forman, Senior Administrative Assistant-Morenci, and event coordinator. "Through Freeport's collaborative effort, it has really become the ultimate group project."
The collaborative acumen of Burnett and team brought in more than a dozen Arizona organizations to this year's Biodiversity Week cornucopia, including the Duncan and Morenci school districts, Arizona Sonora Desert Museum, Morenci Public Library and the Phoenix Zoo.
"It's really fun and rewarding to see the students being so receptive and learning about the importance of protecting bats and other pollinators, or bighorn sheep, which are a flagship species in Morenci and Clifton, as well as all other flora and fauna in our communities," said Martha Lujan, Manager, Strategic Community Development-Morenci. "Putting together this event takes a lot of planning, coordination and the unflagging efforts of volunteers, but at the end of the day is very gratifying and fun. Without our employees and teachers this wouldn't be possible".
The week ended with raucous closing ceremonies held at the schools that included a cadre of Freeport employees sweating it out in animal costumes, and students scurrying across the gymnasium floors in pollinator relay races.
"I volunteer to give back to the kids and to be more a part of the Duncan Community," said Tommy Gates, Supervisor, Mine Operations-Morenci. "I enjoy seeing the smiles on the kids' faces as they learn and experience new things."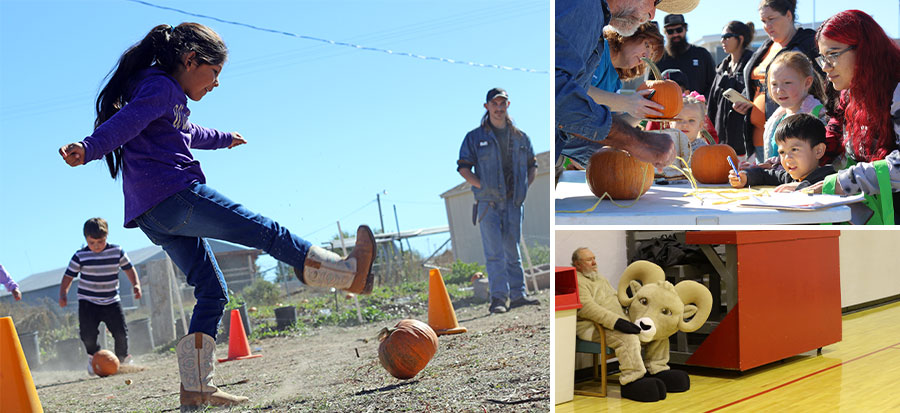 Photos (clockwise): An elementary student puts her best foot forward at the pumpkin patch event at the University of Arizona Cooperative Extension in Duncan during the recently held Biodiversity Week; Area students measure and weigh their personal pumpkins; Tommy Gates takes a much-deserved break from donning the Rocky Mountain Bighorn Sheep costume.