Freeport-McMoRan Publishes Climate Report and Announces Net Zero Aspiration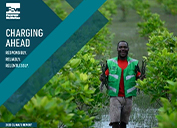 November 25, 2021 - Freeport-McMoRan (FCX) released their updated Climate Report which details the work underway across its global business to reduce greenhouse gas (GHG) emissions, improve energy efficiency, advance the use of renewable energy and understand and enhance the company's resilience to future climate-related risks. The updated Climate Report also reflects the company's continued progress towards alignment with the current recommendations of the Task Force on Climate-related Financial Disclosures (TCFD).
As both a major consumer of energy, and as one of the world's largest producers of the copper essential to enable the global energy transition, FCX aspires to participate in, and positively contribute to, a 2050 net zero economy. FCX acknowledges that its path to net zero carbon emissions will require industry-wide new technological solutions and innovation. FCX embraces these challenges and are focused on achieving meaningful progress through their internal efforts and through collaboration with industry partners.
FCX is actively involved in various industry initiatives that are focused on climate, including the International Council on Mining and Metals and the International Copper Association. In addition, FCX is a patron supporter of the Charge on Innovation Challenge, a new global industry initiative aimed at developing effective solutions for large-scale haul truck electrification systems.
To learn more about FCX's climate strategy and progress, please read Freeport-McMoRan's 2020 Climate Report.