Kathleen Quirk Profiled in Fastmarkets' Metal Market Magazine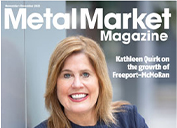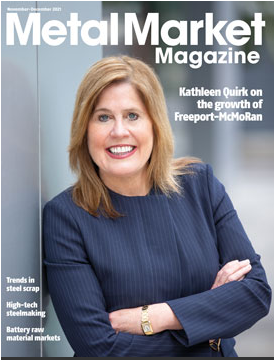 November 29, 2021 - From running a lemonade and candy stand as a youth to her current role as President and Chief Financial Officer of Freeport-McMoRan, Kathleen Quirk has been driven to succeed in business while constantly learning from those around her.
Quirk's career and her experiences helping navigate the company through various challenges are chronicled in a cover story in the latest edition of Fastmarkets' Metal Market Magazine.
Quirk credits much of her success to the mentorship she received from top executives who joined the company about the same time she did, including current Chairman and CEO Richard Adkerson. Also important was what she learned from her co-workers.
"I learn not just from people I worked for, but also from the people I work with," Quirk said in the article. "Everybody is really talented – I really try to listen to what people have to say, because it's really hard to make decisions unless you put yourself in other people's shoes. I'm probably biased, but I believe the culture we have at Freeport and the way people respect each other, work together for the common good of each other, families, stakeholders, is really gratifying."