Cerro Verde Receives Two International Awards for Endangered Species Conservation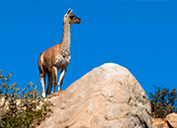 December 2, 2021 - The Wildlife Habitat Council (WHC) recently gave two international awards to the Biodiversity Management Program of Sociedad Minera Cerro Verde for its contribution to the conservation of the Peruvian Longirostro Bat (Platalina genovensium) and the guanaco (Lama guanicoe).
WHC highlighted Cerro Verde's work to maintain the habitat of bats, such as protecting nesting sites and the cacti that produce the nectar bats feed on. Cerro Verde's guanaco conservation project demonstrates responsible production practices by avoiding adverse impacts to critical habitats and endangered species as well as promoting scientific knowledge and broader conservation initiatives while addressing biodiversity risk.
Cerro Verde's Biodiversity Management Plan commits the company to mitigating its impacts on flora and fauna and is certified by Wildlife at Work, Corporate Lands for Learning and Wildlife Habitat Council. Many of the Plan programs have received national and international awards and recognition.
To learn more about how Freeport-McMoRan works in partnership with local stakeholders, please visit fcx.com/sustainability and read the company's 2020 Annual Report on Sustainability.