El Abra Provides Start-Up Funds and Training to 33 Small Businesses in Chile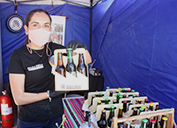 December 16, 2021 - Minera El Abra selected 33 businesses for the Fund Empréndete 2021, which will finance businesses or business ideas of people in the Antofagasta Region who have been trained with the DreamBuilder program.
This initiative, executed by the Development Corporation of the Province of El Loa, PROLOA, seeks to strengthen local economic development through training and the delivery of funds linked to entrepreneurship. The Fund is available in the communities of Calama, Tocopilla, María Elena, Quillagüa, Chiu Chui and Toconce.
To learn more about how Freeport-McMoRan works in partnership with local stakeholders, please visit fcx.com/sustainability and read the company's 2020 Annual Report on Sustainability.