Company Steps Up to Help Deliver PPE from NYC to Indonesia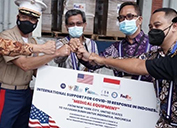 December 17, 2021 - Leave it to a world-class copper company to be one of the major players in a world-class effort to save lives and help overcome COVID-19 with a mammoth shipment of medical supplies from New York City to Indonesia.
Approached in early November by the American Indonesian Chamber of Commerce to donate up to $300,000 needed to ship 46 40-foot containers of surplus PPE, Richard Adkerson, Chairman of the Board and CEO, and Kathleen Quirk, President and Chief Financial Officer, quickly agreed to support the effort in full.
"With our operations and many employees in Indonesia, we were happy to support the transportation of needed medical supplies to the area to help COVID-19 relief efforts," Adkerson said. "This is a great example of companies coming together in the fight against COVID-19."
The shipment, which includes more than 1.9 million N95 masks, 1 million COVID-19 test kits and 1.6 million disposable gowns, was donated by the City of New York to Yayasan BUMN untuk Indonesia, the foundation arm of the Ministry for State Owned Enterprises in Indonesia.
While a recent spike in COVID-19 cases due to the Delta variant has subsided, there is still an urgent need for relief supplies in Indonesia. In July, the Global Task Force on Pandemic Response issued a call to action in response to a surge of cases due to the Delta variant in Southeast Asia. In addition to Freeport, stepping up to lead the response were Microsoft and Deloitte.
The effort to get the massive donation from the Big Apple to Indonesia was led by Wayne Forrest, President of the American Indonesian Chamber of Commerce, and the US-ASEAN Business Institute Council, with financial support from Freeport and technical assistance from Deloitte, FedEx and UPS.
Getting such a massive shipment on its way in a timely fashion was a product of relationships that go back in New York City since Indonesia's inclusion in the United Nations after the country's independence in 1963.
"Freeport-McMoRan had headquarters here and still have people here, so there were some good, longstanding relationships with the American Indonesian Chamber of Commerce, US-ASEAN and the City of New York," Forrest said, "It was the power of these relationships with these pretty important players that allowed this to happen."
The first shipment of containers departed New York on October 30 with an estimated arrival in Jakarta in December. The sea shipments follow two air shipments of supplies delivered in September by FedEx and UPS.
To commemorate the relief effort, Abdul Kadir Jailani, Director General for Asia-Pacific and African Affairs, New York City, plans to make a symbolic visit to the now-empty warehouse in the city that had stored the surplus before the joint relief effort got the shipment on its 8,700-mile way to Jakarta.
Forrest, who has been to the warehouse himself, said he likes the idea of Jailani's trip.
"If you think about how many warehouses there are in New York City, just finding the right warehouse and confirming that the medical supplies were in it was hard enough to do," Forrest said. "So, getting all those supplies from a warehouse in the middle of New York City to the other side of the world where people can use them as quickly as possible, that's a big accomplishment that should be a point of pride to people at Freeport."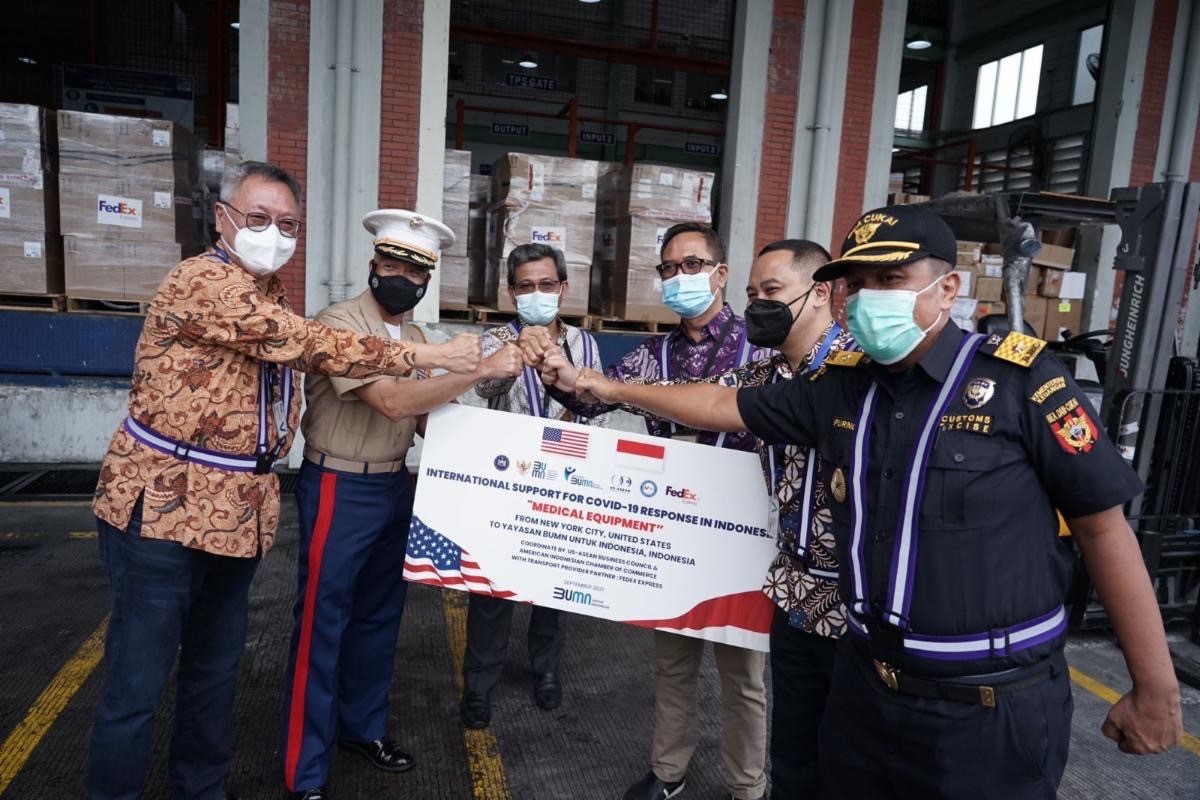 Cover and inside photo: The company donated $300,000 to help pay transport costs of surplus medical supplies donated by the City of New York to a non-profit in Indonesia.