PT Freeport Indonesia Smelter Project Draws National Interest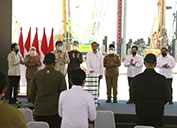 December 28, 2021 - You know you've got a mighty big project on your hands when the president of the country shows up at your groundbreaking.
That level of interest shouldn't be surprising considering the smelter now under construction by PT Freeport Indonesia has been in discussion for years, and just the site preparation at the 100-hectare site (about 250 acres) in Gresik in northeast Java took nearly two years of ground improvement and stripping.
But when President Joko Widodo and his official entourage visited the previously uninhabitable land that someday will support the $3 billion PTFI copper smelter and precious metals refinery, they were pleased to see the multiyear mega project humming along in the early stages of pile driving and site setup in preparation for a massive construction effort in 2022.
When completed in 2024, the smelter will include a seaport that can accommodate large-capacity ships along with associated infrastructure such as roads, bridges, electricity, natural gas and water processing.
While the official groundbreaking ceremony took place October 12, the smelter team was already busy installing 694 steel piles and driving another 600 of 2,301 pre-stressed concrete piles required for the first phase of construction on the project, which officially is known as the Manyar Smelter and Manyar Maju Refinery.
If that fails to adequately impress, consider the effects that COVID-19 has had on finding, hiring, training and retaining workers, not to mention global supply chain issues. In addition, the earliest most Indonesians could start getting COVID-19 vaccinations was July.
"We are a 100-percent-COVID-vaccinated site," said Chris McCoy, Project Manager-Engineering II. "To be employed at the site, you need to be vaccinated or put in the vaccination program, and we can do vaccinations immediately when people come to site now."
PTFI collaborated with PT Chiyoda International Indonesia to carry out engineering, procurement and construction work in the construction phase. The project will bring significant economic benefits to the local economy through direct and indirect impacts. PTFI is encouraging contracting companies to maximize recruitment of local communities to fill certain fields of work. During the peak construction and commissioning phase, the project will contract approximately 15,000 workers to support the activities to build the smelter and precious metals refinery.
Working close to home at Manyar after leading some of the biggest mine construction jobs in the world is Venta Agustri, Area Construction Manager-PTFI, who was born, raised and educated in Surabaya.
Agustri's last three jobs took him to the Oyu Tolgoi copper / gold mine in Mongolia, the Tenke Fungurume copper / cobalt mine in the Democratic Republic of Congo and Freeport-McMoRan's El Abra copper mine in Chile. He previously worked at PTFI in Papua for its major expansions. Asked how he felt about now leading such a large project in his hometown, Agustri bellowed a three-word answer: "Best job ever."
He was equally emphatic about the significance the president's visit has had on his workforce.
"The president coming here was huge," Agustri said. "It raised the level of prestige of the company and the project significantly. The visit drew attention, and people want to work for a prestigious company."
World's biggest
Scheduled to be operating by 2024, the smelter will use flash smelting and flash converting technology, advances made by Finland-based company Outotec to mitigate and control environmental emissions. With a design capacity of 1.7 million tons of concentrate per year, Manyar will be the world's biggest single-line smelter.
Another example of new technology will come in the way the smelter handles slag, the impurities floating on the top of molten copper that are separated and removed. Slag, which is cooled in large steel pots, is notorious for periodically bursting from the pots. At Manyar, a net made of steel wire will be suspended above the pots to catch and control such slag eruptions.
"The intent is to contain the eruptions within the area," said H-D Garz, Executive Vice President-Corporate Planning and Business Strategy at PTFI. "This is a first-of-its-kind design to mitigate some of these risks in operation, and a lot of ideas and engineering have gone into this just to get to this point."
PTFI's commitment to build a smelter is in accordance with the 2018 divestment agreement with the Indonesian government. The smelter development obligation is contained in PTFI's Special Mining Business License, which is part of PTFI's operating sustainability permit until 2041.
This new smelter should serve as a role model and early adopter in the growth of industry and good jobs in the area, Widodo told the crowd at the groundbreaking.
"I hope the presence of PT Freeport Indonesia in the Gresik Special Economic Area will be an attraction for other industries, especially the copper derivative industry, to invest," Widodo said.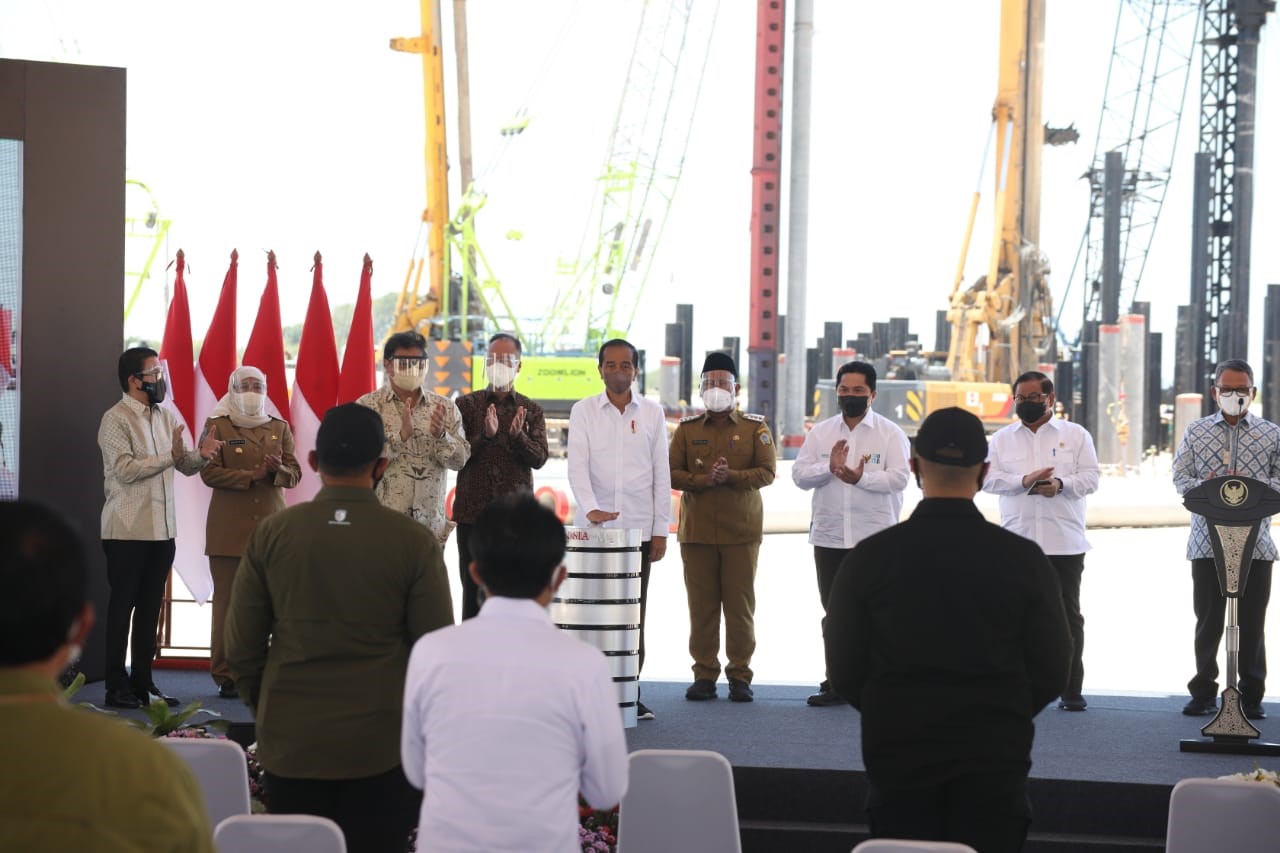 Photo: Indonesian President Joko Widodo (middle) speaks at the groundbreaking of PTFI's smelter site in October.