New Health and Safety Strategy Being Rolled Out Companywide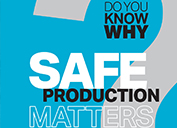 February 3, 2020 - Employees can except to hear and see a lot more about why Safe Production Matters as sites companywide begin to roll out a refreshed health and safety strategy.
"We are excited to roll out our new strategy to align our priorities, empower safe behaviors and strengthen our safety culture," said Stacy Kramer, Vice President-Corporate Health and Safety, in this video of employees sharing why Safe Production Matters to them.
The new strategy includes steps for action in key focus areas identified with operations that will have the most positive effect on the company's health and safety success going forward. These focus areas include:
Reducing high risk
Using data to drive decision-making
Eliminating the systematic causes of incidents or issues
Optimizing site and corporate health and safety resources
Reinforcing and sustaining a strong safety culture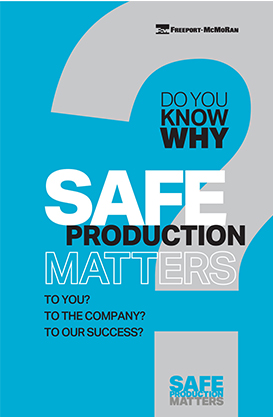 "Our progress in these areas will depend on our commitment to safe work behaviors and finding ways to use technology to enhance your safety experience in the field," Kramer said in the video.
As part of the roll out, the company is introducing Safe Production Matters – a refresh of the company's Safe Production motto.
"We want to remind employees that Safe Production matters to each of us, to our coworkers, to our families, to the work we do every day," said Kramer. "Nothing is more important than working safely to ensure we all go home without injury each day."
Sites will display posters on various safety matters throughout the year. Employees also will receive a specially designed hardhat sticker as a visual reminder to work safely – because it matters.
"At Freeport, the safety of our workforce is our no. 1 priority," said Richard Adkerson, President and Chief Executive Officer, in the video.
Photo: This poster is the first of several that will be displayed at sites as the company rolls out a new health and safety strategy.