El Abra Received National Energy Efficiency Award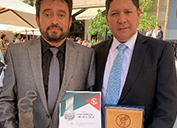 May 7, 2020 - El Abra operations received a Silver Seal Energy Efficiency Award from the Chilean Ministry of Energy and the National Sustainability Agency for its ongoing efforts to improve energy consumption and efficiency in mining operations at a formal ceremony in January 2020.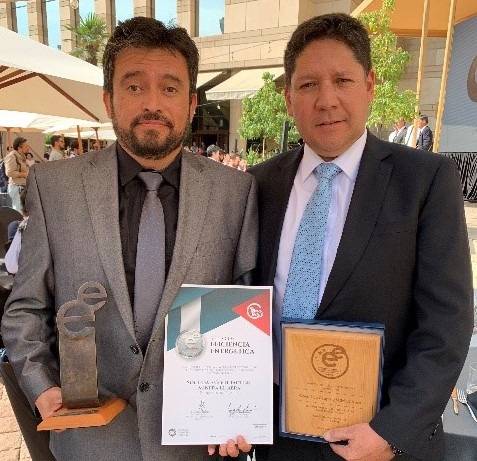 The award is given annually by the ministry to private companies that show a high level of commitment to energy efficiency. El Abra specifically was recognized for its work in the area of cathode production.
"It is an honor to receive this award, which recognizes our efforts over the past few years focusing on efficient energy consumption in our processes across the site," said Rubén Funes, President-El Abra. "This award drives us to continue working in this direction to achieve greater productivity and results."
El Abra's Open Top Capping project was spotlighted for reducing energy loss during cathode production. The project, led by the Energy Distribution Team, identified a way to improve energy efficiency by using copper conductors in the cells – called an open top capping system.
"We have worked hard to improve our efficient use of electric energy," said Mack Rojas, Superintendent-Electricity and Planning. "For example, we implemented condensers in the crushing process, which allowed us to increase power in the plant, improve the use of energy and install the new capping system in electrowinning."
Alejandro Rubia, Manager-Engineering and Services, was proud of the work done and the recognition.
"This award is the result of a series of joint efforts led by the Energy Distribution Team and supported by operations and processes, as well as the mine," Rubia said.
Photo: El Abra's Mack Rojas (left), Superintendent-Electricity and Planning, and Alejandro Rubia, Manager of Engineering and Services, attended the January award ceremony.