PT Freeport Indonesia Uses Best Technology Available to Test for Coronavirus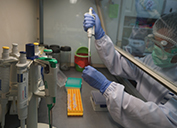 June 1, 2020 - By acquiring the gold standard for coronavirus testing, PT Freeport Indonesia has completed the circle on protecting the company's employees and the greater community.
"This is one part of an overall effort that includes contact tracing, other testing, social distancing and everything else we've been working on," said Dr. Richard Vinroot, Vice President and company Medical Director. "But make no mistake, this is a very important part of that circle. Purchasing not one but two PCR units shows our commitment to protecting our people."
The PCR units not only will protect those who work at Jobsite but also are a community resource for the region as the company recently was approved to analyze tests from around Papua.
That overall effort began in January, when company leaders knew they had to secure the resources and expertise to help protect their employees, said H-D Garz, Executive Vice President, Corporate Planning and Business Strategy-PTFI.
"Back then, like everyone else, we didn't know what this new virus would do nor the global impact it would have," Garz said. "But we knew that we needed to think ahead, because this was something that could threaten our community and our employees. We wanted to do all we could to provide superior medical services and screening to maintain a healthy environment."
To do the job, the pair of PCR (Polymerase Chain Reaction) machines – ordered three months ago from the manufacturer in South Korea – require test kits, reagents, supplies, experienced laboratory technicians and a lab to analyze the samples. Rather than send samples off-site for analysis, which could often take days for results, PTFI converted, certified and staffed its own labs.
"We've procured the kits and supplies for 20,000 tests, and we can procure more," Garz said. "Having this pair of machines and the ability to do the lab analysis here at Jobsite is something I think few companies, and not even some countries, are doing."
Topflight Testing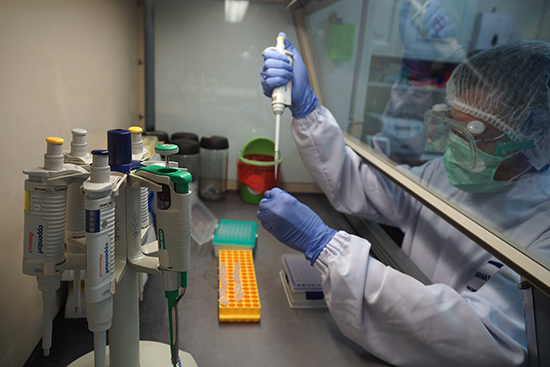 These machines bring a higher level of accuracy than antibody and antigen tests, which also are used for screening, said Dr. Michael Bangs, Advisor of Public Health and Malaria Control-International SOS in Papua.
PCR testing, in the simplest of explanations, uses a molecular-level approach and specific reagents to latch on to the virus in the sample then replicate it, making positive or negative tests easier to identify.
"While the other tests provide different, but less informative results, the PCR method gives a more accurate and timely analysis to combat the infection, and the PCR units we have are topflight," Bangs said. "This means that in addition to the rapid tests that examine blood for evidence of recent infection, we now have PCR testing to determine if someone is currently showing evidence of virus infection."
Making that determination assists both medical and public health personnel as they work to treat and break the chain of further transmission in the workforce and the community, Bangs said.
Along with the PCR units operating at Kuala Kencana and Tembagapura, PTFI also has increased the number of rapid screening tests, expanded its medical staff, added inpatient facilities and medical equipment, and increased its isolation centers.
"By having two units, we can use them in two different places, but if something goes wrong with one of the PCR units, we can keep testing," Vinroot said. "That's capability that very few companies, cities or hospitals have in Jakarta, Europe or America."
PTFI's medical provider, International SOS, is working with the Mimika government to prioritize how the PCR units can best be used for the community, said Dr. Firdy Permana, Public Health Manager at Jobsite.
"The current criteria for PCR testing are COVID-19 symptoms and known contact with symptomatic people," Permana said.
Circling the Wagons
While PCR is the gold standard for coronavirus testing, it's just part of the circle of strategies – screening, testing, contact tracing, monitoring and surveillance, social distancing, and good hygiene – necessary to combat the pandemic.
When recommendations change, based on advice from the company medical director, health-care professionals and government leaders, the company will pivot its approach as it continues to protect employees and the community, provide the best medical attention, and follow all mitigation guidelines.
The company cannot do the job alone, though.
"PTFI now is equipped with increased medical facilities and capabilities, but employees and community members cannot let their guard down," Permana said. "We are asking everyone to remain vigilant, continue practicing social distancing measures and good personal hygiene, and wear masks to avoid a wave of cases that could disrupt our capabilities."
Photo: A lab technician prepares a sample to test for COVID-19 at PT Freeport Indonesia's on-site testing.