Company Named to The Civic 50 List for Commitment to Community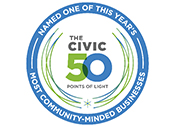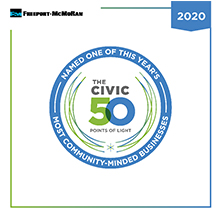 June 10, 2020 - Highlighting its role in setting the standard for corporate civic engagement, Freeport-McMoRan has made the list recognizing the 50 most community-minded companies in the U.S. for the eighth year in a row, again selected as the Materials Sector Leader.
The Civic 50, an initiative of Points of Light, recognizes the 50 most community-minded companies in the nation each year as determined by an annual survey that exclusively measures corporate involvement in communities.
For example, Freeport-McMoRan employees volunteered more than 36,000 hours last year with community-based organizations through episodic projects as well as skills-based initiatives and long-term charitable board service. The company also continued to advance biodiversity and conservation efforts near our sites and engage with community stakeholders across the enterprise to identify and address desired social outcomes.
"We are proud to receive this honor again, which is a meaningful validation of our ongoing commitment to help accelerate positive change in our communities, today and for future generations," said Tracy Bame, Director-Community Development and Social Responsibility.
Each year, public and private companies with revenues of $1 billion or more are invited to take the survey, which is based on the Points of Light's Civic Engagement Framework – a roadmap for companies committed to drive social impact in their business and communities.
Civic 50 honorees are selected based on four dimensions of their community engagement programs and social impact: strategic investment, business integration, fostering civic culture and measuring impact.
"Points of Light believes that now more than ever, companies must drive transformative social change around the world," said Natalye Paquin, president and Chief Executive Officer, Points of Light. "We thank Freeport-McMoRan for their investment and look forward to supporting them in innovating and expanding this work."
To learn more about The Civic 50, visit civic50.org. For more information on our corporate citizenship initiatives, visit freeportinmycommunity.com. Points of Light is a global nonprofit organization with affiliates in 250 cities across 37 countries, and in partnership with thousands of nonprofits and corporations,
Points of Light engages 5 million volunteers in 14 million hours. The Civic 50 survey is administered by True Impact, a company specializing in helping organizations maximize and measure their social and business value.