Sun to Help Power Miami Operations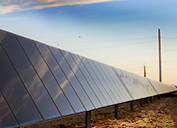 February 19, 2021 - Freeport-McMoRan is helping lower its carbon emissions through a 20-year commitment to receive a portion of power for the Miami, Ariz., smelter from a newly opened solar power plant.
Arizona-based Salt River Project's new Saint Solar 100-megawatt plant in Coolidge began delivering solar energy to Miami operations and 10 other large energy consumers of the central Arizona power utility in mid-December. The Miami smelter will receive about 5 percent of its electrical energy under the agreement.
"Purchasing renewable power from the Saint Solar plant was a unique opportunity that aligns with Freeport-McMoRan's recently stated target of a 15 percent reduction in carbon intensity by 2030," said Bill Cobb, Vice President and Chief Sustainability Officer. "This purchase is an important next step to our energy transition."
For Miguel Palacios, Vice President-North America Smelting and Refining, the path to sustainable energy management in mining is embodied by the United Nations' Sustainable Development Goals, which is why they're embedded in the Copper Mark, the guiding principles of the International Council on Mining and Metals, and the company's own principles and practices.
"The world is making it clear to industry the direction it wants us to move. Perhaps the United Nations SDGs represent better than anything else where we are going," Palacios said. "Ideas such as Planetary Consciousness are more and more on people's minds, and all this is very much linked to the social license to operate in a community."
No Stranger to Solar
While Saint Solar is a recent development, the company's learnings in and commitment to renewable energy span more than a decade.
"We engaged in our early solar projects in 2009, hosting projects at Bagdad and Ajo Discontinued Operations that have been in place for 10 years," said Johnny Key, Director-Energy and Power Solutions. "We have learned a lot from that about how to integrate renewable energy into our energy portfolio."
The company also has worked with the Rocky Mountain Institute, an environmental think tank, on ways to do the same kind of integration across its operations.
"We've done a very comprehensive study of our sites worldwide on how to integrate renewable energy, which includes the potential to generate our own renewable energy at our active mining and discontinued operations sites," Key said.
A Sign of the Mark
The company's participation in the SRP's Sustainable Energy Offering speaks to the newly acquired Copper Mark status of five sites across its global operations – Cerro Verde, Atlantic Copper, El Abra, Miami and El Paso.
The 32 criteria that Copper Mark producers must meet guide responsible practices in social, governance, and environmental issues. Three of the environmental criteria specifically relate to energy consumption, greenhouse gas emissions and pollution prevention.
"This project is a great example of how we continue to find innovative ways to lower our carbon footprint for our operations, which is becoming increasingly important to our customers and end users of copper such as automakers and tech companies," said Andrea Vaccari, Director-Responsible Production Frameworks and Sustainability.
Miami operations employees have been serious about the Copper Mark and its emphasis on continuous improvement, said R.J. Tarango, Miami's Superintendent-Electrical Maintenance.
"We saw this opportunity with Saint Solar as a way of getting more green and helping us get to where we want to be with our carbon footprint," Tarango said.
Miami has benefited from an infusion of motivation aligned with the Copper Mark and the company's own goals with the arrival of Palacios from his former role at the company's Atlantic Copper smelter in Huelva, Spain.
"Our new General Manager really brought that emphasis. He pushed us to create a smelter energy group to get really good assessments of all our high consumers of energy so we can seize on opportunities to save power everywhere we can," Tarango said.
Ton by Ton
Saint Solar is one of three new Arizona-based solar resources SRP announced it will add as part of its Phase One and Phase Two Sustainable Energy Offering. Earlier this year, SRP announced that 33 companies signed up to receive approximately 300 MW of solar energy from these new solar resources, decreasing carbon dioxide emissions by about 1.6 million tons.
Other Phase One energy consumers participating in SRP's renewable offering include Albertsons Companies, Inc., Cyrus One, Digital Realty, and the cities of Phoenix, Chandler and Mesa.
Aside from being one of SRP's oldest and biggest customers, Miami and Freeport-McMoRan hold a special place in the history of the utility, which had its roots firmly planted in agriculture.
"In 1912, Miami was one of SRP's first electric customers with a contract for excess power from the Theodore Roosevelt Dam, ensuring the vitality of SRP's system for years to come. With Saint Solar, we are partnering with SRP on the next generation of sustainable resources," Key said.
Photo: Miami operations in Arizona now gets 5 percent of its energy from the sun through the new Saint Solar plant.