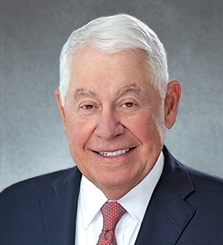 Richard C. Adkerson
Chairman of the Board and Chief Executive Officer
Richard C. Adkerson is Chairman of the Board and Chief Executive Officer of Freeport-McMoRan Inc.
He graduated from Mississippi State University with a B.S. degree in Accounting with highest honors and an M.B.A. degree. In 2010, he received an Honorary Doctor of Science degree from Mississippi State. He also completed the Advanced Management Program of the Harvard Business School in 1988. Prior to joining Freeport-McMoRan in 1989, he was Partner and Managing Director in Arthur Andersen & Co. where he headed the Firm's Worldwide Oil and Gas Industry Practice. From 1976 to 1978, he was a Professional Accounting Fellow with the Securities and Exchange Commission in Washington, D.C.
Mr. Adkerson has been a member of the International Council on Mining and Metals since 2005 and served as Chair from 2008 - 2011 and 2020 - 2022. He is a member of The Business Council, the Business Roundtable, the Council on Foreign Relations and serves as Chairman of the Advisory Council of the Kissinger Institute on China and the United States. He also serves on Greater Phoenix Leadership and the Dean's Council of 100 for the Arizona State University W. P. Carey School of Business.
He serves as Chairman Emeritus of the Board of Trustees of the National WWII Museum and as a member of the Board of Visitors of the M.D. Anderson Cancer Center in Houston, Texas, and was Campaign Chair of the Banner M.D. Anderson Cancer Center Cancer Has Met Its Match Campaign in Phoenix. He served as the Honorary Chair of the Phoenix Zoo's Join the Journey - Share our Pride Campaign. He is a member and past President of the Mississippi State University Foundation Board of Directors, serves on the Executive Advisory Board for the College of Business, and chaired Mississippi State's State of the Future capital campaign.
He was named National Alumnus of the Year of Mississippi State University in 2011 and The Richard C. Adkerson School of Accountancy is named in his honor. He was inducted into the American Mining Hall of Fame in 2010 and the National Mining Hall of Fame in 2023, received The American Institute of Mining, Metallurgical and Petroleum Engineers Charles F. Rand Memorial Award in 2011 and in 2009, he was the recipient of The Copper Club's Ankh Award. He was named Executive of the Year by the W. P. Carey School of Business Dean's Council at Arizona State University in 2011. For ten years, Mr. Adkerson was named The Best CEO in Metals and Mining by Institutional Investor magazine.
Mr. Adkerson has served as Chief Executive officer since 2003, has been on the FCX Board since 2006 and as Chairman of the Board since February 2021.