Tyrone Testing Loader That Could Boost Production While Cutting Emissions
December 1, 2022 - A couple of worn-out wheel loaders combined with the company's goal of reducing greenhouse gas emissions created the perfect opportunity at the Tyrone, N.M., mine to test an innovative new machine that that can scoop bigger loads while cutting fuel consumption and carbon emissions.
Crews at Tyrone recently began testing the new Komatsu diesel-electric loader that is billed as able to increase production while reducing fuel consumption – and the greenhouse gas emissions associated with it – by 40 percent or more. The 15-month lease with the option to purchase allows both Freeport-McMoRan and Komatsu to field test the new design in an actual mining operation to see if it works as advertised. If it lives up to its hype, the loader could change the way the company digs at all its mining sites, said Ron Gerdes, Manager, Operations-Tyrone.
"All eyes are upon us," Gerdes said. "If this is successful here at Tyrone, there could be tremendous opportunities at our other sites."
Tyrone was in a unique position to test the new design. At the time Komatsu unveiled its new model, Tyrone was using two older Caterpillar 994 loaders that were experiencing recurring maintenance issues, Gerdes said. By agreeing to put the loader through the operational wringer at Tyrone, the company received favorable lease terms and Komatsu got the opportunity to demonstrate its new product in the field.
On paper, the new loader looks revolutionary. It has a bucket that can handle about 25 percent more material than the old models. That alone means faster loading and shorter waits for haul trucks, which translates to greater operational efficiency, Gerdes said.
The new design has fewer moving parts than a conventional diesel-powered loader, which should mean less breakdowns, quicker repairs and lower maintenance costs. Komatsu also says it has designed the diesel-electric loader with a power recharging system that stores excess energy when it is not needed and taps into it when it is required. That is what drives the fuel savings and resulting reductions in emissions.
Another advantage to a wheel loader is it can easily be moved to different locations, making it more versatile than a stationary shovel.
"We are able to mine more quickly, more efficiently, and move more tons with this unit," Gerdes said. "It's got more capacity, so you need to make less passes while you're loading the truck. It burns less diesel while it's doing it. You're moving more tons for less. We are getting more productivity and less carbon footprint. If that loader performs as it's supposed to, it's going to be a win-win from an emissions perspective and from a productivity perspective."
Beyond meeting the operational needs at Tyrone, the new loader has the potential to help the company achieve its environmental sustainability goals by contributing to a reduction in greenhouse gas emissions, said Trevor Lewis, General Manager-Sustainable Mining.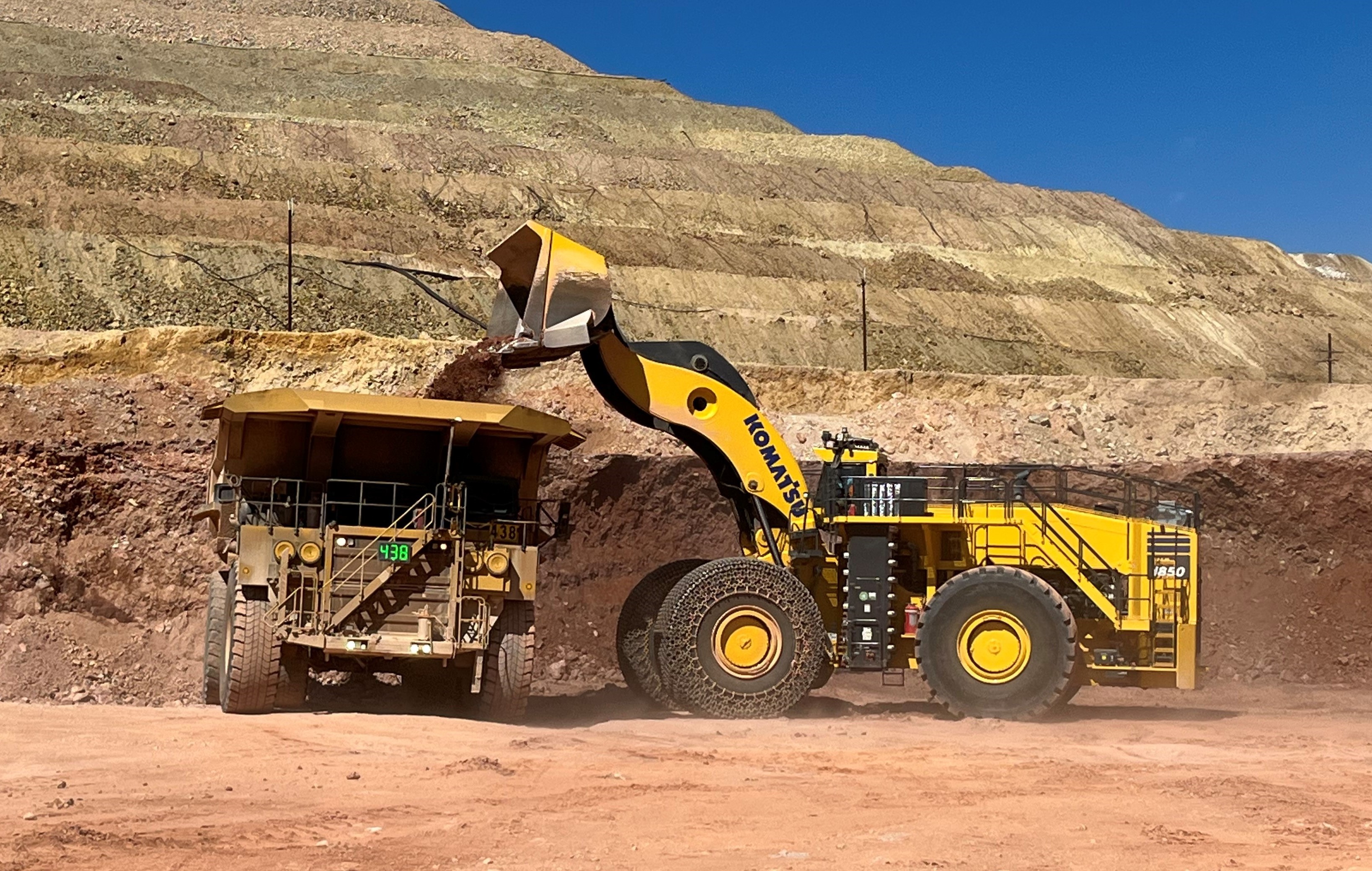 The Komatsu will be evaluated at Tyrone to determine how well it delivers on the claims made by the company about its fuel efficiency, emissions, reliability and the ability to move more material more quickly.
"It's got to be productive," Lewis said. "We are hoping to achieve these fuel savings that Komatsu claims we should be able to get. That translates to lower greenhouse gas emissions, and it should be a lower cost per ton machine for us as well."
Photo: The new diesel-electric wheel loader being tested at Tyrone will move more material while using less fuel than a traditional loader.