Dr. Vinroot Explains More about the COVID-19 Vaccine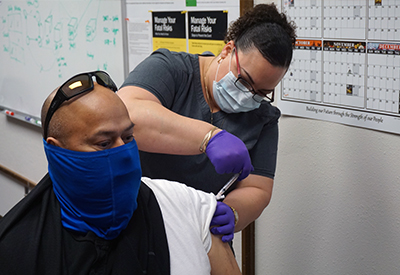 February 9, 2021 - Dr. Richard Vinroot, Vice President and company Medical Director, talks about his personal experience with the COVID-19 vaccine and encourages employees to get the vaccine in a new video.
Vinroot participated in the Pfizer study and received shots in August and September 2020.
"I wasn't worried about participating in the study," Vinroot said in the video. "They had already gone through several studies prior to determine if it was safe or not. … There were very few adverse reactions, and more importantly they found the vaccine to be extremely effective."
After the second shot, he experienced mild symptoms that lasted only a short time – a sign that his immune system was kicking in to protect him, he said.
In line with recommendations from the Centers for Disease Control and Prevention, Vinroot encouraged employees who have had coronavirus to get the vaccine as well.
In the meantime, he asked that employees please continue all the safety protocols that prevent the spread of the virus: Wearing a mask, maintaining a distance of 6 feet or more, washing your hands and staying home when sick.
For additional guidance on the coronavirus vaccine, read the company protocols.

BACK TO COMPANY COVID-19 INFORMATION​