Don't Let Pandemic Fatigue Lower your Guard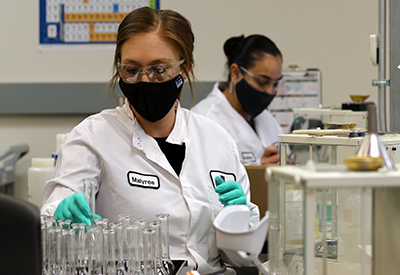 March 10, 2021 - Over the last 12 months, are you often:
__ irritable
__ unmotivated
__ eating kinda weird
__ sleeping kinda weird
__ tired of jumping through COVID hoops?
If you checked one or more of the above, you may be suffering from pandemic fatigue, in which case, join the club.
While this may be the last piece of advice some want to hear, take it from the company doctor: Don't let your guard down now, and remain extra careful observing all COVID-19 protocols – or there could be serious implications for you and the company.
"When you look at how many employers have had to close or suspend operations, we truly are fortunate as a company that so many employees have been able to keep their jobs and provide for their families throughout this pandemic," said Dr. Richard Vinroot, Vice President and company Medical Director. "The reason we've been able to keep operating is because our people have, for the most part, done a great job of following our COVID-19 protocols. But, if we let our guard down, our people can get sick and our business can truly be impacted by it."
It's the Little Things
Walking the beat at company sites, Health and Safety pros report that while employees continue to be earnestly on board with following protocols, pandemic fatigue can show up in small ways that sneak up if not addressed.
If you're wearing a mask with the top of it drooping below your nostrils, you're not really wearing a mask, for example. Another is the steady creeping of 6 feet of adequate social distance into 5 or 4 feet, said Justin Taylor, Health and Safety Manager-Tyrone.
"If I really need to take off my mask to be understood in a group, I always back up a few steps first and even tell my people I'm going to do that,'" Taylor said. "It's just a little reminder, a teachable moment to keep people thinking about doing whatever they can to minimize contact."
At the Technology Center Tucson, employees like Malyree Raymond, Chemist II, likens mask wearing to every other piece of personal protective equipment they don at the lab.
"We put on lab coats, gloves, safety glasses and sometimes even face shields for our lab work, so a mask is just one more of those things we put on," said Raymond, who also is a member of the Tech Center's Acid Safety Team. "I think the employees at our lab here and at CASC and Sanchez in Safford have all been very responsible about following all the protocols to help protect ourselves and each other."
One-On-One
A little personal encouragement can go a long way to keep someone's head in the right place, Vinroot said.
"We just need to continue to encourage people that we don't want all of their good efforts to go in vain because they are tired of doing all these things that we very much need to keep doing," he said.
If a particular employee or co-worker seems to be slipping in their practices due to pandemic fatigue, rather than a public moment, wait for a private one to bring up the topic.
"We have seen some people that sometimes are little lax in wearing their masks or how close they get to people. That's just something that as a site and a company we need to be vigilant about," said Tim Cuestas, Health and Safety Manager-Sierrita. "What we stress is that if we see people slipping a little bit in the way they're doing things to take that person aside and talk to them one-one-one to see how they're doing and just stress why it's so important for us."
Tough vs. Selfish
John Swagzdis challenges the age-old paradigm of the rough-and-tumble miner in conversations about COVID-19 protocols he has with employees.
"We're miners. We're tough. We work through adversity, and we're used to powering through things like a cold," said Swagzdis, Health and Safety Manager-Chino. "What I try to convey is that there is a big difference between being tough and being selfish. If you are coming to work not feeling well and potentially exposing your co-workers, that's just being selfish, and it's being selfish not just to your co-workers but also to every one of their family members and friends."
In fact, the responsibility to do everything you can to protect yourself and others expands far past friends and family, Vinroot said.
"We're a major employer in the communities where we operate, and the last thing we want to be is the part of any community that is lagging when it comes to COVID-19 protocols," Vinroot said. "It's all those things that we all know we need to do regardless of how tired some people may be of doing them – wear a mask, keep your distance, wash your hands and stay home when you're sick."
The Road to Rejuvenation
For more information about pandemic fatigue including signs, symptoms and healthy ways to cope with it, check out these "7 Steps to Reduce Pandemic Fatigue" from UCLA Heath.
For an even deeper dive, the U.S. Centers for Disease Control and Prevention just put a report on "COVID-19 Workplace Fatigue: Lessons Learned and Mitigation Strategies."
This is also a good time to note that the company's Employee Assistance Program resources provide support, resources and information for work-related or personal issues related to emotional support and work-life solutions.
Photo: Malyree Raymond, Chemist II, (left) and Andrea Garcia, Laboratory Technician II, adhere to social distancing and wear face masks with diligence.