Bubble Strategy Protects Yourself, Co-workers and Others from COVID-19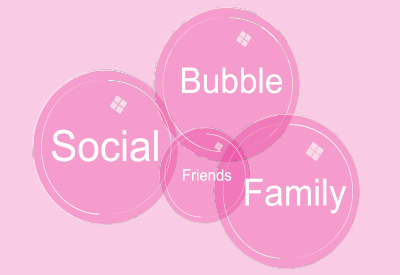 October 30, 2020 - Don't let anyone burst your bubble.
Limiting and beating back the spread of the coronavirus – while at the same time keeping operations open – requires that we all respect and protect the bubble.
Known as social bubbles, contact bubbles, COVID-19 bubbles, quaranteams and pods, they're the small groups of people who treat each other as safe. They're your inner circle, your sphere of influence, the people with whom you've had more or less the same social contact as you did before the pandemic.
At home, that means family members. At work, it means people that work together doing jobs in such a way that adequate social distancing isn't possible.
The idea is to treat your bubble as a group quarantine, with everyone in the bubble avoiding or at least limiting close contact with people outside the bubble. If everyone in the group socially distances, wears masks and uses good hygiene in all exchanges with the outside world, the bubble stays intact.
Around the world, this strategy is popping up in many ways as operations continue to refine work schedules to keep employees as safe as possible on the job.
​"Wherever we can, the same two to three guys on a crew are assigned to work together consistently. We also do our best to stay consistent when bringing in members of another crew, electrical as an example, to help troubleshoot an issue," said Erich Bower, General Manager-Tyrone in New Mexico.
Divide and Conquer
Think of bubble strategy as the opposite of that teacher from your childhood who changed the seating chart every two weeks so every student got exposed, so to speak, to every other student in the class.
If you've been keeping up with NBA basketball, you know that the players, referees, coaches and staff of all the teams are playing in one giant bubble in Orlando, Fla. On the job, you may be getting used to seeing the same faces day in, day out as your supervisor has you working in crews with the very same employees rather than rotating members.
"What we're also doing, and I completely stole this from what Sierrita has been doing, is that we're now also looking at all of the possible interactions that a given team might have with an employee from another team or a contractor and seeing how we can eliminate or at least modify those encounters," Bower said.
Safford operations in Arizona is not keeping to a strict bubble policy for all scheduling, per se, but is keeping teams together as much as possible.
At Cerro Verde, the entire shift of employees on-site work, eat and sleep in the same quarters to limit outside exposure as much as possible for seven days, then they have seven days off, while the next shift does the same. To protect their very large bubble – more than 2,000 employees at once – they are temperature screened and rapid tested at the beginning and end of their workweeks.
At PT Freeport Indonesia, there's the Portsite bubble, with the same group of employees working two weeks straight and limiting outside interaction to keep everyone healthy. They're also rethinking how employees interact even briefly in passing at PTFI, said Albert Jiesral, Production Operations Supervisor-GBC Rail Haulage.
"We have a joint team of Safety, Security and supervisors who regularly inspects how employees are complying with the protocols, and we're now focusing on situations such as when employees are entering or exiting the shaft / elevator to ensure we're social distancing," Jiesral said.
Welcome To My World – Or Not
Though a lot of people instinctively form and protect bubbles without knowing a thing about bubble strategy, thinking about your own bubble – and who is a threat to pop it – can play a beneficial role in Freeport-McMoRan's response to the pandemic in three important ways:
Limiting the spread of the virus through isolation of people into small, safe groups
Providing fast, efficient contact tracing when a person tests positive, because bubble-mates can quickly be identified as close contacts and notified
Prompting supervisors and managers to re-evaluate every exchange, or bubble intrusion, as it were, between employees and contractors of different groups to minimize contact
Exposure to the most potent vehicle of the virus – airborne respiratory droplets ­– can be seen as second-hand smoke.
For example, even if the only contact someone has with you every day is to hand you a package, in that short exchange, most people can detect the presence of a smoker. But if that same delivery person leaves the package outside the door, knocks and then leaves, when you pick up the package, you don't smell second-hand smoke. Likewise, a similar exchange with someone who might shed respiratory droplets also will be eliminated.
As well as helping contain the spread and aid in contact tracing, one more benefit of bubble strategy is hard to quantify but shouldn't be overlooked: the very nature of grouping in bubbles brings members together in a way that raises the bar on respecting and protecting co-workers, family members and fellow citizens.
"I think there is comradery that comes out of it, because you want to protect your group – and you definitely don't want to be the one who lets down your family members or colleagues by not adequately protecting your bubble," said Dr. Richard Vinroot, the company's Vice President and Medical Director.
"Also, I think as people continue to work together and grow more familiar with each other, they get more and more comfortable talking to a co-worker about at-risk behavior, and that's good for everyone."